CheapoVegas.com Lists the Top 4 Hotels in Las Vegas for 4th of July Weekend 2013
Jul 21, 2013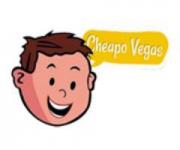 (PRWEB) June 21, 2013
Pull out those American flag pants and bro tanks, and get ready to celebrate 4th of July in Las Vegas. There's no better place to celebrate Independence Day than Sin City, where all are free to do as they please. Las Vegas hotels on the Strip will be doing their best to make sure every person feels lucky to be an American (or happy to be in America), with their non-stop parties, fireworks, restaurant specials and more for Vegas Fourth of July weekend 2013. Whether looking for a hot nightclub, bar special, or fireworks for Las Vegas July 4th and the weekend, Vegas Strip hotels have it covered. Casino Boy is ready to be the obnoxious guy at the pool with the American flag trunks and bandanna. Here are the top hotels in Las Vegas for 4th of July Weekend 2013:
1. Caesars Palace for its 4th of July Vegas fireworks display:
This Vegas hotel may transport visitors to a more Roman state of mind, but it's still perfect for 4th of July Weekend and celebrating independence of the United States. The Caesars Palace July 4th Celebration, with its fireworks by Grucci launched from the Roman Tower at 9:15 pm, makes Caesars Palace Hotel & Casino the best spot for celebrating Las Vegas Fourth of July 2013. Plus, Caesars is offering Las Vegas hotel deals for up to 20% OFF rooms in July. Access the deals from Caesars Palace Hotel & Casino here:Caesars Palace deals
2. Planet Hollywood Las Vegas 4th of July weekend specials 2013:
Planet Hollywood Las Vegas is perfect for those who want to celebrate Independence Day the right way...with some booze of course! PBR Rock Bar & Grill at Planet Hollywood is having a patio party on Thursday, July 4th for Independence Day 2013. The party features a cocktail menu with Patrón and Patrón XO Café Dark Cocoa Tequila, plus half price entry into PBR Rock Bar. Shot specials are also available with $5 Patrón XO shots or $50 for open bar all day. Open Bar and American spirit mixed with tequila? Casino Boy is already there. For Casino Boy, coming in at a close second to saving money on alcohol is saving money on a hotel room. He won't book a room unless there's a promo code, and luckily the Planet Hollywood Las Vegas deals are his life savers. Right now, Planet Hollywood is offering 15% - 25% off hotel rooms!
3. Paris Las Vegas for 4th of July Eiffel Tower Experience:
Although this Vegas July 4th event may have a French setting at the Paris Las Vegas, that's not stopping any visitors from celebrating American Independence Day in Sin City. Paris Las Vegas is offering a Fourth of July package for panoramic views of the fireworks from Caesars Palace. The Paris deal for July 4th costs $49/person and includes VIP access to the observation deck, which spans 460 feet. Plus, each person gets a mini American flag, so don't worry, Casino Boy won't need to order any freedom fries to make a point. Plus, an ambassador will explain some of the Las Vegas landmarks before the 4th of July Vegas fireworks start! Fourth of July events in Vegas are sure to get Casino Boy excited, but he cares most about his wallet and not having to crack it open. Luckily, he can save with Paris Las Vegas deals for 20% - 25% OFF rooms through December.
4. Luxor Hotel and Casino in Las Vegas for 4th of July Weekend 2013:
With their killer deals and July specials at Rice & Company, Luxor Las Hotel and Casino is the place to be for Las Vegas Fourth of July this year. With some of the Luxor Las Vegas deals, this hotel is one of the most affordable Vegas hotels for 4th of July Weekend 2013. They're offering 30% off room rates or a free room upgrade with their promo codes! Luxor Las Vegas is also offering a Firework Roll and Bombshell cocktail pairing at Rice & Company for $26/person throughout all of July. This Firework Roll was invented by Executive Chef Danny Chen and includes spicy tuna, yellowtail, avocado, and caviar, all wrapped up in seaweed and with a spicy mayo and hot chilli sauce on top. Plus, this Vegas July 4th special also includes the Bombshell cocktail with Absolut vodka, Chambord, triple sec and pop rocks! Find Casino Boy pop rocking down the Strip after he guzzles a few of these during Vegas 4th of July!
This article was written by Ariel Abbott, Editor of CheapoVegas.com
About CheapoVegas.com:
CheapoVegas.com is the online authority for all things fun and exciting in Las Vegas... and cheap, too! Hotel promo codes, show packages and tour deals are just a few of the travel aides to be found on CheapoVegas.com.