Harrah's Cafe Las Vegas
Hooray for Harrah's Cafe! Well, no one actually says that, it just sounds nice because it rhymes.
---
A Quick Look
Cuisine:

Deli, Cafe & Coffee

Hours: All day, errrr day
Price:
---
---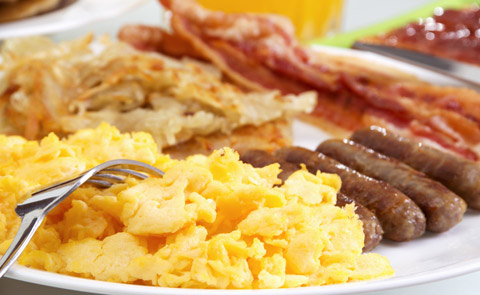 Like Deli, Cafe & Coffee Cuisine?
Check out more of our Deli, Cafe & Coffee restaurant faves!
The Skinny
While you might not be running to Harrah's Cafe Las Vegas at all hours for their fabulous meals, you might casually be walking around and realize that it's here, and you might just stop in to eat. Or you might be drunkenly stumbling around, looking for anywhere that will serve you. These are really the only circumstances that will lead you to walking through the door.
Reviews
There are currently no reviews!
Be the first to write a review!
Write a review
Quick Facts
Open 24-hours a day, Harrah's Cafe Las Vegas has served just about every type of Vegas-goer, so don't be ashamed to come in and make an appearance yourself!
Yes. If you want one, Harrah's Cafe Vegas of course has a steak and eggs late night special.
The Cafe at Harrah's Las Vegas makes every night an Italian night with their $14.99 dinner deal. Apparently Italians only eat pizza and fettucini alfredo, though. It's okay, Harrah's - we can dig that!
Restaurant Website:
https://www.harrahslasvegas.com/casinos/harrahs-las-vegas/restaurants-dining/cafe-at-harrahs-detail.html
Restaurant Menu:
https://www.harrahslasvegas.com/images/non_image_assets/TR_HHCafeMiddle_0420sam.pdf
Info
Location:
Harrah's Las Vegas
3475 Las Vegas Blvd S
Las Vegas, NV 89109
View Map
Phone:
702.697.2880
Hours of Operation:
All day, errrr day
The Environment:
You'll find the typical miscreants lurking around Harrah's Cafe Vegas during the late night hours, probably until noon or so. You know, the drinkers, gamblers and party people whose standards are much lower than hanging out with all the people at the fancier hotels on the Strip. So if you're here, running into these people, you know what category you're in in our eyes.
Why We Dine:
Harrah's Cafe Las Vegas is a 24-hour joint that does a little more than the average steak and egg special that most of them do. Although if you want that, they have this late night special for around $5.99 too.
Tons of Pizzas: Harrah's Cafe Vegas may be an American breakfast and brunch-type cafe by trade, but they make their share of pizzas as well. They have quite the selection, from BBQ chicken to Smoked Shrimp, and you can even create your own! All are cooked in a wood-burning oven that apparently makes them taste... well, like pizza.
French Toast: Cafe at Harrah's Las Vegas is known for their breakfasts. Even if it's like, "Yeah, I've been there for breakfast." Basically, people know they have breakfast. But people will compliment this place if, for breakfast, they had the french toast. Especially if it was the cinnamon roll french toast, which is french toast, done up like a cinnamon roll, if you can believe it, with the gooey icing and all!
Late Night Dining: From 11pm-6am, Cafe at Harrah's Vegas is one of the best places to get a stack of pancakes to soak up all that alcohol. Eating here after a long day in Vegas not only ensures that you'll be going into a de-hydration and alcohol-induced coma, but a food coma to match. That's some heavy sleep, and you'll need every second of it if you're planning on going out and doing the same thing tomorrow.
Inside Knowledge:
Cafe at Harrah's Las Vegas was formerly the Garden Cafe. They renamed it because the garden died, though. Actually, we have no idea why they renamed it, but the simple title "Cafe" is far less controversial we will admit.
We Recommend:
Italian Nights: Nope, we're not just talking about the guys who row the gondolas at the Venetian, although we can understand how that is tempting. Daily from 4pm-10pm, you can get soup or salad and pasta or pizza for $14.99 at Harrah's Cafe Vegas. Add dessert and wine for just $5. Must be some pretty high-quality wine, huh?
Doing Dessert: No meal is complete without dessert of course, and Cafe at Harrah's Las Vegas has some pretty irresistible sounding ones. The 7-layer carrot cake, the creme brulee and cheesecake will all give you a run for your money. The choice will be tough when it comes down to the final decision though.
Is it Worth It?
There are other places that have better food at more-worth-it prices, but it's all eatable here.
Harrah's Cafe Las Vegas Restaurant Amenities
Brunch
Full Bar
Open for Holiday Dining
Homemade Desserts
Kid Friendly
Late Dining
Open 24 hours
Take-Out Available
Wheelchair Access
Sunday Brunch
User Average Review
Overall:
Menu:
Ambience:
Location:
Service:
Based on reviews
Rating Distribution
0.0% recommended it
Harrah's Cafe Las Vegas Reviews
There are currently no reviews! Be the first to write a review!
Write a review
Restaurant Hotel
Other Deli, Cafe & Coffee Restaurants You May Like