Sensi Las Vegas
Boy oh boy! Teach me your ways Sensi. Or just teach me how to afford this bill!
---
A Quick Look
Cuisine:

Asian

Hours: Mon.-Thu. 5pm- 10pm, Fri-Sun 5pm- 10:30pm
Price:
---
---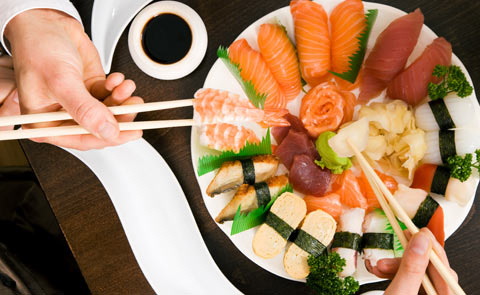 Like Asian Cuisine?
Check out more of our Asian restaurant faves!
The Skinny
Sensi at the Bellagio is a contemporary Vegas restaurant with Italian, Asian, seafood and American options on the menu. If you're looking for an Asian-Fusion restaurant as Sensi claims to be, there are other Bellagio restaurants with (strictly) Asian menus. Sensi Asian fusion restaurant Vegas has more ethnic diversity under one roof than many hotels have in all their restaurants.
Reviews
There are currently no reviews!
Be the first to write a review!
Write a review
Our user reviews are from real registered users.
Quick Facts
Sensi Asian fusion restaurant Vegas claims to be an Asian Fusion restaurant, but in reality they have 4 different genres of the food that seperate the menu.
Sensi contemporary dining offers a few vegan options on the menu, and the chef will gladly vegan-ize many of the dishes for those who ask.
Sensi at the Bellagio offers wines from all over the world, specializing in those from New Zealand and Australia. The sommeliers will recommend these wines from down under, but don't let them drink you under the table. That will cost you extra, and you'll already be spending plenty as it is.
Restaurant Website:
https://www.bellagio.com/restaurants/sensi.aspx
Restaurant Menu:
https://www.bellagio.com/files/restaurants/menu-sensi-dinner.pdf
Info
Location:
Bellagio Las Vegas
3600 Las Vegas Blvd S
Las Vegas, NV 89109
View Map
Phone:
702.693.7223
Hours of Operation:
Mon.-Thu. 5pm- 10pm, Fri-Sun 5pm- 10:30pm
Additional Info:
The dress code is business casual.
The Environment:
When you walk in to Sensi at the Bellagio, you are hit with a large amount of stone and glass. Obviously you don't literally get hit, these people aren't cruel, some of the staff wouldn't even cook a cow! The stone bar is aesthetically pleasing and glass windows and shelves enhance the contemporary feeling and allow you to watch the chefs hard at work cooking meals for you to spend your fortune on.
Why We Dine:
To be honest, Sensi contemporary dining is hit or miss. The dishes can either be the best you've ever had or not what you expected at all. They are also often either smaller or bigger than desired. Your best bet is to ask your waiter in detail what to expect from the dishes you have your eyes on, but there are a few things that anyone wouldn't want to miss:
Specialty Cocktails: Like many places in Vegas, cocktails at Sensi Restaurant Las Vegas will set you back about $14 each, but there are many fruity cocktails that come highly recommended. Compared to the $30 a glass you'd be spending on a wine recommended by your sommelier, your bartender can recommend something you can enjoy for half the price, that has twice the punch.
Bread Basket: Bottomless bread baskets are hard to come by these days, especially in Vegas where it feels like nothing is free. Sensi Restaurant Las Vegas breadbasket includes their house-made naan, and no one can say no to a second basket. Don't think that you can just come here to fill up on bread though, it's only complimentary with the purchase of a meal. They don't like it when you try to leave after the bread basket - trust us.
Vegan Menu: Vegas might be Sin City, but Sensi at the Bellagio realizes that eating animal products is one sin that they don't want a part of, or at least not in every dish. They provide many vegan options, and even more vegetarian meals, like the vegan risotto. If you mention that you're a vegan to your waiter at Sensi Restaurant Las Vegas, they can tell you all the other dishes that the chef would make vegan for you.
Inside Knowledge:
Every June, Sensi closes for one week for renovations and some spring cleaning. This week varies, so if you're planning a summer vacation, call ahead to make sure Sensi at the Bellagio will be open for your trip.
We Recommend:
An Early Dinner: The best meal at Sensi Restaurant Las Vegas is dinner, but don't make your dinner reservations too late. After a while, this contemporary restaurant becomes the home of many drunk gamblers, gloating about their wins or crying into their naan. When they are not there, the restaurant is peaceful and romantic, but celebrations and pity parties often kill the mood around 9pm. And when you get the bill for a romantic dinner you didn't even bat your eyes in, you'll leave sulking as well.
Ginger Ale: While you're at dinner, taking your mind off of drinking for a while can be refreshing. Another refreshing thing at Sensi at the Bellagio is drinking homemade ginger ale, and they do it right. The sweet ginger flavor may be powerful to some, so be cautious if you can't handle your ginger.
Is it Worth It?
If you have a vegan in the family, it's definitely worth the money. If you're a meat lover, you might want to find a steakhouse.
Sensi Las Vegas Restaurant Amenities
Full Bar
Fresh Food
Healthy Options
Open for Holiday Dining
Prix Fixe Menu
Romantic Dining
Valet Parking
Wine Specialist
Wine Bar
Wheelchair Access
User Average Review
Overall:
Menu:
Ambience:
Location:
Service:
Based on reviews
Rating Distribution
0.0% recommended it
Sensi Las Vegas Reviews
There are currently no reviews! Be the first to write a review!
Write a review
Restaurant Hotel
Other Asian Restaurants You May Like