The Piano Bar Las Vegas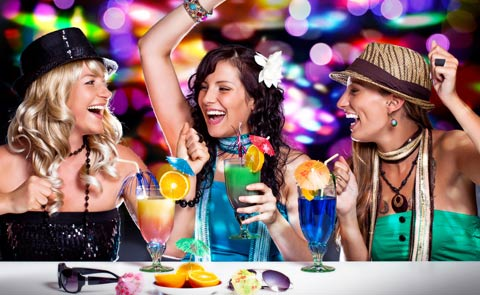 Tipsy? ...or smashed? Stay at one of our favorite nearby hotels!
I'll take dueling pianos over dueling banjos any day. Well, maybe not over the banjos in my girlfriend's shirt.
---
A Quick Look
Type: Music Venue
Dress: Most people will have their eyes on the pianos, not whatever you're wearing.
Price:

Casino Boy's Rating:
---
---

The Skinny
The Piano Bar Las Vegas isn't the kind of joint you'll roll up to for a quiet night out with your old girlfriend. If you're not looking for a lot of singing, dancing and probably a fair amount of laughing at each of those things, this might not be the spot for you. But if you actually like to have fun then strap on your blue suede shoes and get your booty over to The Piano Bar Dueling Pianos Las Vegas.
Reviews
There are currently no reviews!
Be the first to write a review!
Write a review
Our user reviews are from real registered users.
Quick Facts
The Piano Bar Las Vegas is just that, a piano bar at Harrah's Hotel and Casino.
The Piano Bar nightlife Las Vegas brings in the crowds from all over and some people even stay at Harrah's just to be close to this hoppin' joint.
The Piano Bar Las Vegas Harrah's has dueling pianos every night and karaoke 4 nights.
Info
Location:
Harrah's Las Vegas
3475 S. Las Vegas Blvd.
Las Vegas, NV 89136
View Map
Phone:
702.369.5000
Hours of Operation:
Mon.-Fri.4am- 2am & Sat.-Sun.9am- 3am
Features:
The Piano Bar Las Vegas is a casual but lively scene with live music and decently priced drinks, by Vegas standards. You won't go home feeling blue after this place, unless they end the night on that song your high school girlfriend quoted in her break-up note to you. That's always a mood killer. Why do girls even do that?
Why We Go:
Well, we go because we like to have a good time, and singing and dancing to a few fellas rocking out on the piano reminds us that all those years our moms spent forcing us to take piano lessons could turn out to make us more sexy one day.
Sweet Keys: The Dueling Piano Twins change out a few times over the night, but their either a set of two guys or a set of two girls, duking it out to win the audience over. They'll play almost any song you want to hear, for a tip. If you don't tip, they get angry and don't play it, that's usually how tips work though. You can also tip to make a song stop if it's just bringing up way too many bad memories. Or a headache.
Audience Interaction: While the pianos are dueling away, they play mostly songs that almost every knows, or at least ones that almost anyone can fake. They encourage people to sing along, or at least this is how all the drunk people in the house feel, because they'll sing along loudly and listening to them can be better than the show itself sometimes.
People Watching Extravaganza: People get drunk and make a fool of themselves, which makes for the perfect people watching experience in our eyes, but the lady twins aren't too bad on the eyes, and everyone in the crowd is having a good time doing their own things.
Inside Knowledge:
The Piano Bar nightlife Las Vegas get really crowded and really busy most nights. If you're looking to have another drink as soon you as you finish the one you're working on, you should probably order it as soon as the first one comes. Or order two at a time like Casino Boy likes to do. It takes a while to flag down the waitresses for every request, because everyone's got plenty and they keep the girls on their feet.
Do's and Don'ts:
Do Tip The Twins: The Piano Bar Dueling Pianos Las Vegas Players are happy to take requests, but those requests don't come free. You don't technically have to pay for them, but you're not going to get your song played and you're not going to end up on their good side if you don't tip then when you request a song.
Do Get There Early: The place gets packed almost every night, so if you're planning on making a night of The Piano Bar Las Vegas and you don't want to spend that whole night standing, you might want to get there before every seat in the house gets filled.
Don't Bring a Camera: Well, don't bring a camera unless you want all of your friends to see all of the drunken songs you performed for The Piano Bar nightlife Las Vegas, that is. We don't like the results on our camera the next morning after we go here, but maybe you have a high self esteem, or alcohol tolerance. In which case we say to you, drink more!
Don't Miss Karaoke: The piano playing is all good and well, but our personal victories lie in the microphone. The karaoke mic comes out guns blazing and takes The Piano Bar nightlife Las Vegas to a whole new level. People sing along to the piano twins, but with karaoke you get to take center stage, and no one will outshine you. Except for that one drunk girl in every karaoke bar who thinks she can join in every song. No ma'am, you just sit down and let daddy do his thing.
Is it Worth It?
The Piano Bar Las Vegas is arguably the best piano bar in the city. Simply put, it's worth it.
The Piano Bar Las Vegas Amenities
Bachelor/Bachelorette Parties
Birthday Specials
Full Bar
Live Entertainment
Live Piano/Piano Bar
Karaoke
Wheelchair Access
User Average Review
Overall:
Ambience:
Music:
Crowd:
Price:
Based on reviews
Rating Distribution
0.0% recommended it
The Piano Bar Las Vegas Reviews
There are currently no reviews! Be the first to write a review!
Write a review
Nightclub Hotel
Casino Boy's favorite nearby hotels ...in case you need a place to crash.

Hotel Name
Details

2 Promos Region:

Strip

Address:

3730 Las Vegas Blvd S Las Vegas, NV 89158

2 Promos Region:

Strip

Address:

3900 S. Las Vegas Blvd Las Vegas, NV 89109

2 Promos Region:

Strip

Address:

3850 Las Vegas Blvd. South Las Vegas, NV 89109

2 Promos Region:

Strip

Address:

3770 Las Vegas Blvd. South Las Vegas, NV 89109

2 Promos Region:

Strip

Address:

2880 Las Vegas Blvd. South Las Vegas, NV 89109