Michael Jackson ONE by Cirque du Soleil
This shows a real "THRILLER"!
---
A Quick Look
Show Type: Cirque du Soleil
Rated:

R

Dates: Ongoing
Price:
---
Book Now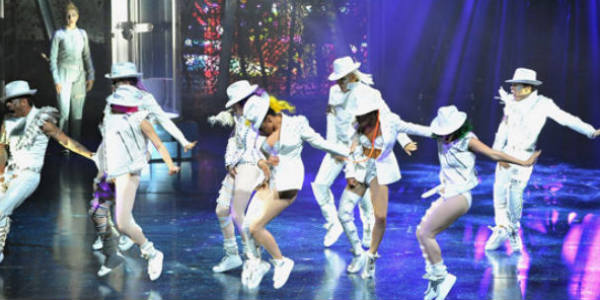 Not what you're looking for? Check out more Cirque du Soleil shows!
The Skinny
Fans of Michael Jackson and modern popular music in general will enjoy the popular Las Vegas show ONE by Cirque du Soleil. This performance represents the combines the huge body of work produced by the legendary King of Pop with the extremely talented and versatile Cirque du Soleil.
The result is an extravaganza that stimulates multiple senses as the audience listens to some of Jackson's amazing songs while incredible aerial performances are taking place. This show is one of the highlights to a Las Vegas trip for many visitors. Here are some of the facts and features of this performance that potential audiences should know about.a
Reviews
There are currently no reviews!
Be the first to write a review!
Write a review
Our user reviews are from real registered users.
Quick Facts
Show can be seen at Mandalay Bay Resort and Casino in Las Vegas.
Performance is 90 minutes long.
Ticket prices range from $69 to $160, with special Gold Circle Seating prices starting at $180.
Theater has the latest surround-sound technology to ensure superb acoustics.
Cast includes 63 talented dancers, aerialists and other performers.
Features many of Michael Jackson's most popular songs from various stages in his career.
Info
Show Dates:
Ongoing
Performance Times:
7pm and 9pm Monday, Tuesday, Friday, and Saturday. 4:30pm and 7pm Sunday.
Running Time:
90 minutes with no intermission
Location:
Mandalay Bay Resort & Casino
Mandalay Bay Theatre
3950 Las Vegas Blvd., South
Las Vegas, Nevada 89119
View Map
Age Restriction:
Children under 5 not permitted. Children under 18 must be accompanied by an adult.
Features:
Michael Jackson ONE by Cirque du Soleil is a multimedia performance that offers audiences an impressive array of features.
Preserving Michael Jackson's Legacy -The show contain high quality recordings of some of Jackson's best loved songs, including "Beat It," "Thriller" and "Bad." The show is a multimedia experience, with many dancing performing hip hop style dance numbers to the music. The show recall some of Jackson's early days of stardom, such as the early 1980s, when his popularity was at a peak.
Visual Effects -Michael Jackson ONE by Cirque du Soleil is much more than a musical. There are bright strobe lights, images projected on large screens and even a spectacular holographic image of Michael Jackson where he is depicted at various ages before he vanishes in a puff of smoke.
Acrobatics -Anyone who is familiar with Cirque du Soleil knows that they have some of the most talented aerialists and acrobats in the world. This is quite apparent in this show. Along with the music, dance and visual effects, audiences are dazzled by the kind of dramatic aerial performances that has made Cirque du Soleil world famous.
What To Know:
Michael Jackson ONE by Cirque du Soleil is a unique theater experience that combines music, visual effects, dance and aerial acrobatics. While it has special appeal for Michael Jackson fans, people who are interested in modern dance and who appreciate the abilities of the famous Cirque du Soleil will also find much to admire.
This show is intended for a variety of audiences and its appeal will include several generations. Those who grew up with Michael Jackson will appreciate with nostalgia the rendering of his songs, along with the images depicted on the screen of an era gone by. Younger people who are fans of hip hop will enjoy the contemporary dance and perhaps come to appreciate how Jackson's music influenced later styles of pop and hip hop.
Inside Knowledge:
Michael Jackson ONE by Cirque du Soleil was created by Jamie King, a dancer in one of Jackson's world tours in the 1990s. This show should not be confused with one that has a similar title: Michael Jackson: The Immortal World Tour, which is also connected with Cirque du Soleil. The latter show came first, but the new one is considered by its creators to be a more complete and intimate look at Michael Jackson's music and influence.
Do's and Don'ts:
Do bring photo ID if you ordered a ticket online.
Do make sure any children under 18 are accompanied by an adult.
Do arrive at the show at least 15 minutes before scheduled show time.
Don't bring children under the age of five to the show.
Don't attend the show if you are sensitive to strobe lights.
Is it Worth It?
For many visitors to Las Vegas, attending a great show is one of the highlights of a trip. Michael Jackson ONE by Cirque du Soleil is a unique opportunity to enjoy the music of Michael Jackson along with the talents of some of the world's best dancers and aerial performers. The show is a very good value for anyone who enjoys pop music and who is interested in the history of modern music and dance.
User Average Review
Overall:
Acting:
Ambience:
Production:
Story:
Based on reviews
Rating Distribution
0.0% recommended it
Michael Jackson ONE by Cirque du Soleil Reviews
There are currently no reviews! Be the first to write a review!
Write a review
Show Hotel
-->
More Cirque du Soleil Shows You May Like