Cirque du Soleil's "O" Las Vegas
Gee Whiz! Are they flying or are they swimming? Either way it sure is swell!
---
A Quick Look
Show Type: Cirque du Soleil
Rated:

G

Dates: Ongoing
Price:
---
Book Now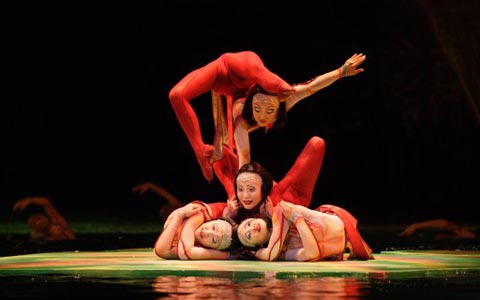 Not what you're looking for? Check out more Cirque du Soleil shows!
The Skinny
"O" Las Vegas is like regular Cirque du Soleil, only wetter. The dancing and diving is innovative and beautiful to watch. "O" is probably the best Cirque du Soleil show in Las Vegas, and it is so popular the huge 1,800-seat theater is often completely sold out.
Reviews
There are currently no reviews!
Be the first to write a review!
Write a review
Our user reviews are from real registered users.
"O"™ from Cirque du Soleil™ - Best Seats
Tickets from $119!
Get the best seats available to one of Vegas' MOST POPULAR shows.
Cirque du Soleil's™ creative theatrical performances at the O Theater at Bellagio
Named after the French word for water - eau
From trapeze and aerial artists to high-dive performers, world-class acrobats and synchronized swimmers
Booking Directions:
Click on the green "Use Promo" button to the right... Locate and click on the "Buy Tickets" red button on the right of the page... Choose your dates, buy your tickets, and enjoy the show!
Offer Expires: 82 days
Promo Code: BOOK ONLINE
Use Promo
Quick Facts
The pool at Cirque du Soleil's "O" Las Vegas is 1.5 million gallons big.
The "O" Las Vegas Theater was designed to look like a 14th century European opera house.
"O" Cirque du Soleil celebrated its 6,000th performance on May 22, 2011.
Every night they wash 60 loads of laundry full of "O" Las Vegas costumes.
Info
Show Dates:
Ongoing
Performance Times:

">
Wed. - Sun. 7:30pm and 10pm
Running Time:
90 minutes
Location:
Bellagio Las Vegas
O Theater
3600 Las Vegas Blvd South
Las Vegas, Nevada 89109
View Map
Age Restriction:
Age 5 and Over
Features:
In "O" Cirque du Soleil does what it does best - it keeps us entertained and amazed with artsy-fartsy theatrics and shocking acrobatics all supported by awesome live music. This show specifically features water; its title evokes the French word for water "eau," and the stage is a giant pool! In true Cirque fashion, Cirque du Soleil's "O" does not have a plot so sit back and watch the characters explore the aquatic wonderland without trying to hard to understand what is going on.
What To Know:
Not only is "O" Cirque du Soleil one of the absolute most popular shows in Las Vegas, but it's also set at the Bellagio, one of the most popular hotels in Las Vegas - for the rich and famous, of course. We can't get enough of the high-class atmosphere that pervades this place - bring on the artsy entertainment and the expensive surroundings!
The Photos: What better way to remember a great night out than a photo op? But this is Cirque du Soleil's "O" Las Vegas so put away that point-and-click digital camera and set yourself up with the professional photographers in front of the show. It costs a pretty penny but the plush picture frame the Bellagio throws in makes it a steal, if spending money without a care is your kind of thing.
Behind the Scenes Magic: Starting in 2010 Cirque du Soleil's "O" Las Vegas started offering spiffy behind the scenes tours. For an extra fee, of course. After seeing the magic of the show, take a daytime tour to learn how all of the underwater lighting works, see the training rooms and even go up a catwalk to the sound and lighting booths! Just don't try to dive into the pool on your tour, security really doesn't like it. Trust us.
The Bellagio: It seems fairly simple, right? The Cirque show that revolves around water should be at the hotel famous for its giant water fountain. But other than that connection, the thing that ties "O" Cirque du Soleil most strongly to the Bellagio is the upscale vibe we get from both. The show is high art, the theater resembles a historical opera house, and trust us - you are going to pay big bucks if you eat at any of the fine dining options at the Bellagio.
Inside Knowledge:
For most Cirque du Soleil shows front row seats are some of the worst and sitting up high is your best bet. For Cirque du Soleil's "O" Las Vegas, the shape of the theater changes this a little bit. While it's still best not to sit right in the front - the first couple of rows are actually called "splash zones" - sitting in the far back will block some of the show. And above all it's most important to try and sit in the middle seats instead of the side seats if you want the best possible view.
Do's and Don'ts:
Do Make a Night of It: The Bellagio Las Vegas is one of the top hotels on the Strip. Since you're already dropping the cash on the show, you might as well make a night of it and enjoy a great dinner at Michael Mina or Prime Steakhouse. Oh and don't forget to check out the Bellagio Fountain show before going to Cirque du Soleil's "O," it's free and after seeing "O" any other water show just won't compare.
Do Bring the Kids: Cirque du Soeliel's "O" Las Vegas is one of the best Cirque shows for kids. The main character is a young boy who explores the aquatic world with wide-eyed wonder. And unlike other Cirque masterpieces, "O" tends to stay away from the more sensual, adult-themed choreography.
Don't Act Miserly: Every once in a while you can find Cirque du Soleil "O" show deals, especially if you find Bellagio Hotel promotions, but don't expect huge discounts. "O" Cirque du Soleil is popular and they know it and with frequently sold out shows they rarely offer tickets for less than full price.
Don't Expect a Plot: This show is not about a lovely story line, it is about surrealism, art, and how many innovative stunts they can get away with between the aerial trapeze acrobatics, olympic-level high diving and epic synchronized swimming. Cirque du Soleil's "O" does not fail to entertain, but it also does not pretend to be linear in any way.
Is it Worth It?
This show is anything but cheap but it's also one of the most popular Cirque shows in the world. It's your call, but we'd say it's got a proven reputation.
User Average Review
Overall:
Acting:
Ambience:
Production:
Story:
Based on reviews
Rating Distribution
0.0% recommended it
Cirque du Soleil's "O" Las Vegas Reviews
There are currently no reviews! Be the first to write a review!
Write a review
Show Hotel
-->
More Cirque du Soleil Shows You May Like