Cirque du Soleil's LOVE Las Vegas
Golly Gee but I just LOVE the Beatles! Even with those funny accents they sure made swell music.
---
A Quick Look
Show Type: Cirque du Soleil
Rated:

G

Dates: Ongoing
Price:
---
Book Now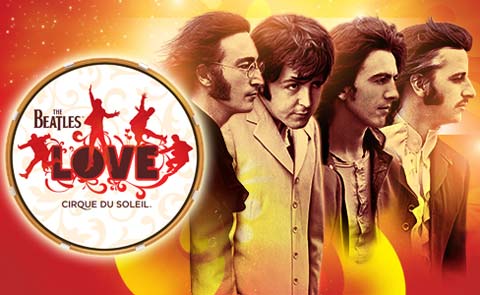 Not what you're looking for? Check out more Cirque du Soleil shows!
The Skinny
When Cirque du Soleil represents the awesome legacy of the Beatles, trippy songs like Lucy in the Sky with Diamonds truly come to life in all of their psychaedelic glory. This is why The Beatles LOVE Cirque du Soleil is such a must-see show.
Reviews
There are currently no reviews!
Be the first to write a review!
Write a review
Our user reviews are from real registered users.
Quick Facts
LOVE Cirque du Soleil Las Vegas features a soundtrack of entirely Beatles music.
George Harrison started the Cirque du Soleil: The Beatles LOVE project in conjunction with Guy LaLiberte.
LOVE Theater at the Mirage Las Vegas was built specially for Cirque du Soleil's Love Las Vegas.
The Beatles LOVE Las Vegas is actually the first joint venture Apple Corps Ltd. has ever partnered in. Aren't we lucky they chose Cirque du Soleil to be their debut accomplice?
Info
Show Dates:
Ongoing
Performance Times:

">
Thurs. - Mon. 7pm & 9:30pm
Running Time:
90 minutes
Location:
The Mirage Vegas
LOVE Theater
3400 Las Vegas Blvd
Las Vegas, Nevada 89109
View Map
Age Restriction:
Age 5 and Over
Features:
Cirque du Soleil's LOVE Las Vegas is the ultimate tribute to our favorite shaggy-haired rock band, the Beatles. The artsy Cirque interpretations of classic Beatles songs keep us awed and entertained, despite the hole in our pockets where our paycheck used to sit.
What To Know:
It's almost impossible to stay cynical when faced with the bright colors, astonishing aerial tricks and amazing surround sound pumping all of the best rock 'n' roll songs ever created. This show does not have a lucid story line though so if you want a more linear experience buy the "All Together Now" documentary about the making of The Beatles LOVE Cirque du Soleil - it's a nerd's dream come true.
The Music: Okay, okay we've all heard that the Beatles are the best band the planet has ever seen - no need to drill it in. But seriously, the covers of the Beatles songs in Cirque du Soleil's LOVE Las Vegas not only capture the essence of the originals, but also make audiences rediscover why the Beatles got so famous in the first place.
Surround Sound: The Beatles LOVE Cirque du Soleil has its own special theater with 6,342 speakers in total including three in each of the 2,013 seats. LOVE Theater at the Mirage is a theater in the round so you could potentially go multiple times and never have the same view - if you had the dough for that many tickets, of course.
The Concept: It's Cirque du Soleil so you really can't expect a plot, but LOVE Cirque du Soleil Las Vegas does show some biographical events in the Beatles' career. What we love is that interspersed in the show are those crazy characters from the song! See Lucy from Lucy in the Sky with Diamonds and even Eleanor Rigby (whose name obviously has yet to be buried).
Inside Knowledge:
Getting to Cirque du Soleil's LOVE Las Vegas on time is crucial, and getting there early is a plus. Before the show starts cast members are out and about in full costume outside the theater for a fun meet and greet. Arrive late and the ushers won't let you into the show until there's a good stopping point and knowing Cirque du Soleil, that could take a while.
Do's and Don'ts:
Do Sign up for the Tapis Rouge: If you really, really love LOVE and have big bucks to spend, the Tapis Rouge package includes the best seats for the show, some knickknacks, a cocktail reception and a behind-the-scenes tour beforehand - for about triple the cost of a regular ticket.
Do Find Discounts: If the Tapis Rouge isn't quite you're speed, don't give up on your dream of seeing this epic Fab Four tribute, discounted The Beatles LOVE Cirque du Soleil tickets are not hard to find at MGM hotels and other sites (like CheapoVegas!)
Don't Expect Gymnasts: Cirque du Soleil is known for insane death-defying stunts and acrobatics but The Beatles LOVE Cirque du Soleil is much more about bringing the music to life with costumes and dancing rather than crazy tricks.
Don't Sit in the Front: The front row seats at Cirque du Soleil's LOVE are actually not the best in the house. For the best views of the whole show, including the parts that occur mid-air, try for seats above row N or M.
Is it Worth It?
For Beatles lovers this show is the ultimate "Worth It." And yeah, it can be worth it for those of you who just love a good show, too. Especially if you find a good promo code.
User Average Review
Overall:
Acting:
Ambience:
Production:
Story:
Based on reviews
Rating Distribution
0.0% recommended it
Cirque du Soleil's LOVE Las Vegas Reviews
There are currently no reviews! Be the first to write a review!
Write a review
Show Hotel
-->
More Cirque du Soleil Shows You May Like