Mix Lounge Las Vegas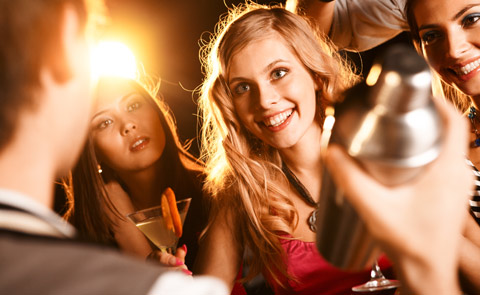 Tipsy? ...or smashed? Stay at one of our favorite nearby hotels!
Whew-wee! Look at them views! Good thing they can mix me up a few drinks so I can forget about being this high!
---
A Quick Look
Type: Lounge
Dress: Casual chic. Save your shorts and sleeveless shirts to wear at the pool.
Price:

Casino Boy's Rating:
---
---

The Skinny
Yet another overly simplistic nightclub name, Mix Lounge & Bar Las Vegas has the advantage of having one of the best views in the whole city. Mix Lounge Las Vegas was named the 5th best out of the Top 10 Las Vegas Bars of 2012. Obviously no lounge can beat The Chandelier at The Cosmopolitan, but this one comes pretty close. Actually, if we were going to tell you how close, The Chandelier is number one, and Mix is number 5. Just in case you needed that cleared up.
Reviews
There are currently no reviews!
Be the first to write a review!
Write a review
Our user reviews are from real registered users.
Quick Facts
Mix Lounge & Bar Las Vegas is located right above THEhotel at Mandalay Bay.
There's a glass elevator that only hits two floors in this joint, the 1st floor and the 64th floor to the Mix Lounge Las Vegas.
Mix Las Vegas nightclub has arguably one of the best views in the city, and the 360 degree windows give you a view no matter where you sit.
Info
Location:
Mandalay Bay Resort & Casino
3950 Las Vegas Blvd S
Las Vegas, NV 89119
View Map
Phone:
702.632.9500
Website:
https://www.mandalaybay.com/nightlife/mix-lounge.aspx
Hours of Operation:
Daily 5pm- 2am
Features:
The main reason to come to Mix Lounge & Bar Las Vegas is for the view, which can be seen from the whole lounge. They tell you if you really want a good seat you need to order bottle service to seat on the patio or right near the window. Let's face it, you get a great view of Vegas from these floor to ceiling windows no matter where you sit in the house, so don't let them trick you into thinking the fat guy sitting on the patio will really obstruct your view all that much.
Why We Go:
Mix Lounge & Bar Las Vegas is pretty much the same as every other lounge in Vegas. It's a chic setting with cocktails and music to feel fabulous in even though you probably won't be able to eat again for a week after buying one drink. This place has a few features that made it number 5 in the city though.
Killer Views: Mix Las Vegas nightlife can get a little crazy, and the views from the 64th floor are what make this spot a priority for many people. But seriously, don't get too close to the edge, because falling 64 floors is really killer. So we've heard.
Relaxing Yet Lively: Mix Las Vegas nightlife is not the nightlife you think about when you think of Vegas. This is a casual lounge, not a poppin' club, so don't go expecting to raise the roof. The only thing poppin' in here is all the boys' collars. Mix is better suited for a few drinks with friends than an all night raver.
Fancy Elevator: This is the kind of elevator you saw in Charlie and the Chocolate Factory, and it's just as exclusive. The only people that get to ride in this all glass, high speed elevator are people going to Mix Lounge & Bar Las Vegas and it only stops on the floor to get on and the floor to get off here, so nobody will sneak on.
Inside Knowledge:
Mix Lounge Las Vegas does have a pretty nice outdoor patio that you can sit out on but it's reserved for bottle patrons only after 10:30. There are also tables that line the windows if you aren't into sitting outside. These seats may seem nice and appealing, but don't get your hopes up. They are reserved for bottle service as well.
Do's and Don'ts:
Do Enjoy the View: You can see the 360 degree view of Vegas from anywhere up in Mix Lounge Las Vegas, so you don't have to sit out on the patio with all the hoity toity rich folk and their bottles of liquor who are probably just sitting out there being rich anyways. Boring...
Do Order a Cocktail: Mix Lounge & Bar Las Vegas really takes pride in their fancy cocktail menu. What's a chic lounge without a fancy cocktail glass in your hand? Don't even worry that they're $16 a pop. Does liquor tastes better 64 floors up? It might have something to do with the altitude up there, but it might just be all the snooty attitude up there.
Don't Expect a Great Beer: They've got a few beers of the Budweiser and Miller selection, but if you're looking for anything more than that, you're better off heading somewhere else. Mix Lounge & Bar Las Vegas wants to encourage you to buy their cocktails and bottle service. Although don't think they are so limited. They fortunately do carry a wide enough selection to include good old O'Douls.
Don't Expect a Late Meal: Mix Lounge Las Vegas serves their tapas menu until 11pm, so if you're hungry after that, you might want to look for an all night diner elsewhere. Mix also has a restaurant right across from the Lounge, which is open from 6-11, so if you wake up before it's time to start getting ready to go out for the night, you could give that a try too.
Is it Worth It?
It's got great views, but everything else is about exactly the same as almost everywhere else in Vegas.
Mix Lounge Las Vegas Amenities
ATM
Bachelor/Bachelorette Parties
Bar Food
City Views
Bottle Service
Full Bar
Outdoor Seating
Facilities for the Disabled
Wine Bar
Wheelchair Access
User Average Review
Overall:
Ambience:
Music:
Crowd:
Price:
Based on reviews
Rating Distribution
0.0% recommended it
Mix Lounge Las Vegas Reviews
There are currently no reviews! Be the first to write a review!
Write a review
Nightclub Hotel
Casino Boy's favorite nearby hotels ...in case you need a place to crash.

Hotel Name
Details

Region:

Strip

Address:

3799 Las Vegas Blvd. South Las Vegas, NV 89109

1 Promo Region:

Strip

Address:

3850 Las Vegas Blvd. South Las Vegas, NV 89109

Region:

Strip

Address:

3950 Las Vegas Blvd. South Las Vegas, NV 89109

Region:

Strip

Address:

3900 S. Las Vegas Blvd Las Vegas, NV 89109

Region:

Strip

Address:

3790 Las Vegas Blvd. South Las Vegas, NV 89109