Comedy in Vegas
The Mac King Comedy Magic Show
Adult Comedy
When you're looking for adult comedy in Vegas, the land of bare skin and a lot of booze, there are a few big names that you have probably heard of several times, and rightfully so.
Absinthe: This is probably one of the best adult Vegas comedy shows. Not because they have the prettiest girls in the least amount of clothes, but because they send people out with stomach aches after every show. Unlike the stomach ache you get from eating too much at the buffet, these stomach aches are actually from working your abs too much from all the dirty humor and insults. Watch your loved ones get insulted and laugh twice as hard.
Sin City Comedy: There's a lot of fun and a little sexy, so they say. We like a lot of sexy, but maybe they're just being modest. There are two stand up headliner comedians every week, plus the Sin City Dollz who put on burlesque shows to complete the night. Plus, there are plenty of discount Vegas show tickets available, so you can spend more money on the things that really matter, like boozing it up.
Carrot Top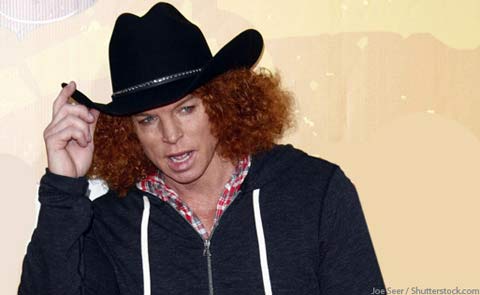 Fun for the Family
The only suitable comedy shows in Vegas aren't housed in cheesy magic shows or hiring the funniest looking babysitter on the roster. There are Las Vegas comedy shows that the whole family can enjoy together, or if you just want some light hearted humor instead of all the dirty stuff most adults go see in Vegas.
Blue Man Group: This is a Las Vegas comedy show that you don't even have to understand English to enjoy and people of all ages and intelligence levels have admitted enjoying it. There is tons of music, passion, and quirky humor. There are lots of discounted tickets floating around out there that even apply to seats in the Splash Zone if you're into that kind of thing.
Tournament of Kings: Dancing, jousting, fireworks and finger food is the deal here, while any other modern folks on the Vegas Strip would give you 10 forks to choose from to eat with throughout the meal. Ticket prices are fair for Vegas, especially since you're getting dinner and a show. This is family friendly Vegas fun at it's finest. You'll love it as much as your 8 year old does, and you can't yell at them for eating like a slob because you're not the one who has to clean up after them this time.
Comedy shows in Las Vegas pop up all the time, plus there are the ones that are so good they stay on the stage year round. (And then there's Carrot Top, too.) Comedians line up to get a show at the most popular comedy clubs in Vegas, so if you time it right,you might be there to see your favorite stand up comedian. There are also Vegas comedy shows that aren't just one person up there yapping away for an hour, and instead involve more intricate acts and entertainment for all. Check out Casino Boy's favorite Vegas comedy shows (other than the one he performs in the mirror every day) below.
$ - $25 and under $$ - $26-50 $$$ - $50-100 $$$$- $100 and up
Comedy in Vegas can be seen for free when you decide to people watch in the casinos and nightclubs. There are terrible dancers and drunk gamblers that put on quite a show, but if you're looking to laugh at someone who is trying to make you laugh instead of laughing at someone at their expense, there are quite a few Las Vegas comedy shows to choose from. You can get dinner and a show for a decent price, and of course it's Vegas, so you'll find plenty of shows to spend much more money on as well.
There is comedy in Vegas for the whole family, middle of the road shows that everyone will enjoy, and of course the much talked about adults only shows that are so dirty you can't believe that they are legal, but you'll laugh so hard you cry anyways. Las Vegas comedy comes in all shapes and sizes, so picking the right show might be harder than you think.
So even if you find comedy in Vegas on the casino floor or passed out on the streets of the Las Vegas Strip, you'll find even more in one of the shows that you actually have to pay for. Don't be a complete cheapo, because there are some shows that you won't want to miss. Free entertainment isn't always your best bet.
Laughter is everywhere in Sin City so loosen up and poke fun at yourself! Or poke fun at Casino Boy... he has skin like a rhino. He also has a massive forehead pimple right now, so maybe don't mention the rhino thing. Instead, mention that you're interested in saving on your Las Vegas hotel room. THEN mention the rhino thing!