CheapoVegas.com Lists the Best Places to Watch the NBA Finals in Las Vegas
Jun 12, 2013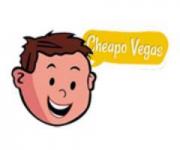 (PRWEB) June 12, 2013
Die-hard NBA fans can take their talents to Las Vegas this year. With the 2013 NBA Finals here, there has never been a better time to visit some of the best sports bars and Las Vegas Hotels on the Strip. These bars offer up more than just sports, so basketball novices won't be bored. Heat fans, Spurs fans or beer fans can all have a great time in Vegas for the NBA Finals this year. Here are the best places to watch the NBA Finals in Las Vegas.
The Sporting House at New York New York
This Sporting House inside New York New York Las Vegas is just as dedicated to the game as the fans. The former ESPN zone boasts 130 HDTV's, two of the countries only 16 feet big screens and two full service bars with video poker. There is also a full arcade where patrons can play air hockey during halftime while trash talking the competition. There's a $15 minimum per person per hour on big game days, so sit at the bar to avoid the extra charge. Happy hour is Monday-Friday from 4:00-5 P.M with $4 drinks. The food is also pretty cheap, so large parties can order some appetizers while they root for their team. The sporting House claims their establishment is "better than being at the game." A bold claim that patrons will have to decide for themselves when watching the NBA Finals in Las Vegas.
Public House at The Venetian
Public House is located on Restaurant Row in TheLas Vegas Venetian. This all American gastropub features a wide selection of beer and wine, above and beyond the average sports bar. The food is a bit of a splurge, but this is the place if you are serious about sports and even more serious about quality drinks. Public House is Nevada's first and only certified beer cicerone, a fancy term that means the staff know their stuff when it comes to alcohol. Chef Anthony Meidenbauer describes the menu as, "fun spins on refined food." The gourmet food is outside a cheapo budget, so come for the 2013 NBA Finals in Vegas, skip the food and stay for the beer.
Five O'Clock Somewhere Bar at The Flamingo
The Five O'Clock Somewhere Bar at the Margaritaville Casino at The Flamingo Las Vegas is a good compromise for sports fans and non sports fans. Patrons can view the 2013 NBA Finals, but don't have to be glued to the TV the entire time. The real draw here are the talented bartenders who serve up specialty drinks with flair. This is the bar for tourists looking to watch the game while being entertained by an extremely friendly staff. It's always Five o'clock at this island-style hangout. The party never ends because this bar is open 24 hours a day, seven days a week. Happy hour is from 2:00-10 A.M so stop by for some after hour shenanigans with Margaritas and Jimmy Buffett.
Twin Peaks
The "ultimate man cave," at Twin Peaks Las Vegas consists of beer, girls and flannel. Comfort food and cold beer are served up by beautiful, attentive women wearing delightfully unauthentic lumberjack costumes. Order a Knotty Brunette or Dirty Blonde house beer. If you can overlook the obvious puns, the brew is actually pretty good and it is ice cold. Twin Peaks is slightly overpriced, but not a rip-off since the portions are huge and its on the Strip. So come watch the game inside the 14,000 square foot dining room. The wall is abundant with big screens for prime viewing of the NBA Finals 2013. Not into sports? No problem. People watching from the second story balcony is probably more interesting anyway. Plus there's a 39-foot rock climbing wall in the middle of the restaurant for more adventurous alpha types.
Steiners
Steiners is located at Crystals at City Center and centrally located on the Las Vegas Strip. This place is an Irish pub, local restaurant and sports bar all rolled into one. The "Nevada style pub" offers some historic touches so it's not as touristy as other bars on the Strip. Travelers and locals frequent the place for video poker and graveyard specials. Happy hour features 2-for-1 drinks from 4-7 P.M on weekdays. Normally this place has a low key vibe, but things get a little rowdy on game days. Watch The Spurs and Heat compete on the big screen plasma in Las Vegas for the 2013 NBA Finals while munching on reasonably priced food that will leave a stomach satisfied.
This article was written by Lauren Yap, Travel Writer for CheapoVegas.com
About CheapoVegas.com:
CheapoVegas.com is the online authority for all things fun and exciting in Las Vegas... and cheap, too! Hotel promo codes, show packages and tour deals are just a few of the travel aides to be found on CheapoVegas.com.
Location