Payard Patisserie & Bistro Las Vegas
Fanciest chocolates I've ever had. Oh yeah, must be because it's French.
---
A Quick Look
Cuisine:

European & Other Ethnic

Hours: Fri.-Mon.6am-11pm & Tue.-Thu.6:30am-11pm
Price:
---
---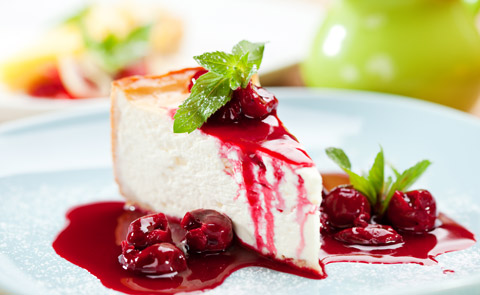 Like European & Other Ethnic Cuisine?
Check out more of our European & Other Ethnic restaurant faves!
The Skinny
Payard Patisserie & Bistro Las Vegas is an upscale French candy store. The only candy they have here are sweet little chocolates that cost more than some of the meals you can get in Vegas, but they come in nice boxes with ribbons and everything. Come on Payard, where are the peanut M&M's?!
Reviews
There are currently no reviews!
Be the first to write a review!
Write a review
Our user reviews are from real registered users.
Quick Facts
Payard Patisserie and Bistro Caesars Palace Las Vegas has some of the sweetest sweets on the Las Vegas Strip!
Payard Patisserie Las Vegas has a chocolate shop, a pastry shop and a dining room for breakfast, lunch and dinner. And don't pass up a chance for bunch either! If you're into that kind of thing.
Payard Bakery Las Vegas even sells signature gift baskets, perfect for all the people you didn't bring on vacation with you. Oh, they can cost up to $500? Well... maybe just a postcard and key-chain for them.
Restaurant Website:
https://www.caesarspalace.com/casinos/caesars-palace/restaurants-dining/payard-patisserie-detail.html
Restaurant Menu:
https://www.caesarspalace.com/images/non_image_assets/pastrymenu.03.30.09.pdf
Info
Location:
Caesars Palace Vegas
3570 Las Vegas Blvd S
Las Vegas, NV 89109
View Map
Phone:
702.731.7292
Hours of Operation:
Fri.-Mon.6am-11pm & Tue.-Thu.6:30am-11pm
The Environment:
The Payard Bakery Las Vegas looks like a little boutique of chocolates and sweets. If that's what they were going for then they nailed it. The Bistro attached is equally as rich and luxurious looking and it's one of those places where you know you won't be able to eat anything with your fingers.
Why We Dine:
We go to Payard Patisserie & Bistro Las Vegas to try to satisfy our insatiable sweet tooth!
Almond Croissant: It's been known to be more muffin or scone-like, but it's still delicious. Filled with almond cream and topped with sliced almonds, Payard Patisserie Las Vegas sells a whopping amount of these, as well as.
Macarons: Get as many as you can (afford) in as many flavors as you can handle. There are so many to choose from, and we wouldn't blame you for getting one of each. Or two of each, really. You can get 12 for $28, and other similarly outrageous prices.
Crepes: They've got all kinds of delicious crepes at Payard Patisserie; nutella, bananas, apples, chicken and mushroom, or whatever other kind you like. Most of them are pretty darn good, even though they're pricey and will probably leave you wanting more.
Inside Knowledge:
Gift baskets and cookbooks are sold at the Payard Patisserie Las Vegas as well. Don't go home empty handed. And if you do, don't tell anyone at home that you did!
We Recommend:
Coming For Dessert: If nothing on the dessert menu wherever you're eating dinner (or lunch or breakfast) interests you, get something sweet at Payard Patisserie Las Vegas. It is their specialty after all.
Not Coming For Dinner: We might as well spell it out for you. There's no point in eating dinner at a bakery, unless your dinner is going to be all sugar, which we would never discourage. The bistro on the other hand is charging more than they should for things that, simply put, just aren't worth it.
Is it Worth It?
It's pricey, but you only need a bite. And it will be a great bite.
Payard Patisserie & Bistro Las Vegas Restaurant Amenities
Brunch
Chef's Specials
Fresh Food
Homemade Desserts
Open for Holiday Dining
Romantic Dining
Wheelchair Access
Buffet
User Average Review
Overall:
Menu:
Ambience:
Location:
Service:
Based on reviews
Rating Distribution
0.0% recommended it
Payard Patisserie & Bistro Las Vegas Reviews
There are currently no reviews! Be the first to write a review!
Write a review
Restaurant Hotel
Other European & Other Ethnic Restaurants You May Like