Japonais Vegas
Goodness Gracious! Who knew Asian Fusion meant such a mark-up in prices?
---
A Quick Look
Cuisine: Asian
Hours: Sun.- Wed. 3pm- 12pm, Thurs.- Sat. 3pm- 1am
Price:
---
---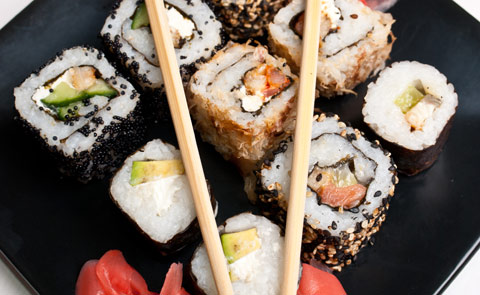 Like Asian Cuisine?
Check out more of our Asian restaurant faves!
The Skinny
Japonais Vegas is a modern-inspired restaurant that tweaks tradition and blends cultures. Asian Fusion. Contemporary Japanese. Sushi Bar. Whatever you want to call it, Japonais Las Vegas delivers quality Japanese cuisine, albeit at a steep price.
Reviews
There are currently no reviews!
Be the first to write a review!
Write a review
Our user reviews are from real registered users.
Quick Facts
Japonais Vegas is the second Japonais establishment, with the original joint in Chicago.
An average check at Japonais Las Vegas will run patrons about $60 a person.
From Thursday through Saturday, Japonais Vegas serves a late night menu from 10pm to 1am in the lounge.
Restaurant Website:
https://www.japonaislasvegas.com
Restaurant Menu:
https://www.mirage.com/restaurants/japonais.aspx
Info
Location:
The Mirage Vegas
3400 Las Vegas Blvd S
Las Vegas, NV 89109
View Map
Phone:
702.792.7979
Hours of Operation:
Sun.- Wed. 3pm- 12pm, Thurs.- Sat. 3pm- 1am
The Environment:
It's clear from the decor that Japonais Las Vegas is a fine dining establishment. They describe themselves as "entrancing in scope, subdued in style." We interpret that loosely as fancy, yet simple.
Why We Dine:
The critically acclaimed Japonais Las Vegas is not the best place for if you're hoping for some bang for your buck. (And, since you're on our site, we assume you are.) But if you're a high-roller looking for a classy night out on the town, Japonais Restaurant Las Vegas fits in nicely with such an evening.
Unique Tastes: Chances are, you've never had or seen anything quite like the creations that Japonais Vegas has come up with. They really pride themselves on both taste and presentation.
Robata Japanese Grill: This special feature at Japonais Vegas uses Japanese charcoal and skewers to result in a delicious grilled meat selection.
Options: Despite its simple approach, the number of options on the Japonais fine dining Vegas menu was astoundingly numerous. If you have the money to blow, you can keep coming back here and try something different each time.
Inside Knowledge:
Since you're paying such expensive prices at Japonais Las Vegas, we recommend trying things that aren't commonly available anywhere else. One such example: "The Rock," a personal 500 degree rock that you cook thinly sliced steak on.
We Recommend:
Kurobuta: Ohba marinated Berkshire pork loin with shaved Tokyo negi and ponzu sauce. It tastes as exquisite as the name is exotic. The aforementioned "The Rock" is of course another great choice for an appetizer.
Sea Bass Cartoccio: This main course features steamed Chilean sea bass served with soy butter sauce and tomato compote. It's extremely flavorful, which can be said for most of the dishes at Japonais Las Vegas.
Is it Worth It?
At these prices, unique tastes alone don't cut it. Japonais fine dining Vegas restaurant doesn't fill us up, and is really just a place to impress a date.
Japonais Vegas Restaurant Amenities
Easy Parking
Fresh Food
Full Bar
Gift Certificates
Happy Hour
Late Dining
Premier Location
Romantic Dining
Wheelchair Access
Valet Parking
User Average Review
Overall:
Menu:
Ambience:
Location:
Service:
Based on reviews
Rating Distribution
0.0% recommended it
Japonais Vegas Reviews
There are currently no reviews! Be the first to write a review!
Write a review
Restaurant Hotel
Other Asian Restaurants You May Like