Tournament of Kings Dinner Theater Las Vegas
Whew-wee! I never thought a dinner show could be this cheesy and fun at the same time!
---
A Quick Look
Cuisine:

American

Hours: Mon.-Wed. 6pm & Thu.-Sun. 6pm & 8pm
Price:
---
---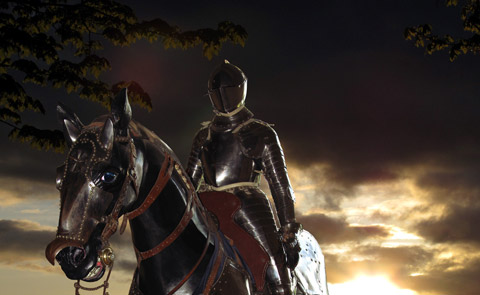 Like American Cuisine?
Check out more of our American restaurant faves!
The Skinny
Does a typical dinner for you involve jousting and eating with your hands? Probably not, let's be civilized here. This is the 21st century. But, when you're on vacation, why not go all out? The Tournament of Kings at Excalibur Las Vegas takes you back in time and gives you a medieval experience the whole family will enjoy. Maybe you can leave your prissy teenager who just got her nails done at home though. She might not love it when he younger brother wipes his greasy fingers all her hair.
Reviews
Most Recent Reviews
Write a review
Our user reviews are from real registered users.
Quick Facts
Tournament of Kings Las Vegas is a dinner theater type show at the Excalibur Hotel and Casino on the Las Vegas Strip.
Tournament of Kings at Excalibur Las Vegas is a medieval show full of jousting, dancing, and sword fighting.
Tournament of Kings Vegas dining is fun for everyone, because you get to eat with your hands in public. Not just normal eating with your hands like you do when you're sneaking things out of the refrigerator at night.
Restaurant Website:
https://www.excalibur.com/entertainment/tournament_of_kings.aspx
Info
Location:
Excalibur Vegas
3850 Las Vegas Blvd S
Las Vegas, NV 89109
View Map
Phone:
877.750.5464
Hours of Operation:
Mon.-Wed. 6pm & Thu.-Sun. 6pm & 8pm
Additional Info:
There's a medieval show during dinner every night.
The Environment:
The Tournament of Kings at Excalibur Las Vegas is a family show. The kiddies love it, but the adults secretly get a really big thrill being there too. What's not to love with a bunch of sloppy eating with your hands, cheering for people fighting to the death, and someone named Merlin directing the crowd? Things get loud rowdy in here, but not in the typical Las Vegas way. The Tournament of Kings dinner theater Las Vegas is the most family friendly loud and rowdy around.
Why We Dine:
We mainly go to Tournament of Kings Las Vegas because we get a meal and can also keep the kids entertained for a while. It gives them a chance to do all the things they don't get to do at home and tires them out so we don't have to hear them yelling and screaming the rest of the night.
Some Old Food: Not old as in a few months old. Old as in from way before our time, or at least the names they give it imply that. Start you Tournament of Kings Vegas dining meal off with some dragon blood and then move on to a cornish game hen you get to rip apart with your hands. In other words, you get tomato bisque and chicken.
No Need for Manners: We love it when we can stuff our faces and don't have to decide which of the 12 forks in front of us we're supposed to use. At Tournament of Kings Las Vegas, we don't even get the option of silverware. You get to eat everything with your fingers. It can get pretty messy, but we like it dirty anyways.
A Cheesy Show: The Tournament of Kings at Excalibur Las Vegas aren't battling it out to the death, and we can definitely tell it's fake. The kids still love it even though it's not real fighting. They have to do this show every night, so they have to keep it at least a little bit civilized. Come on though, we want blood!
Inside Knowledge:
Even though you'd be rooting for the enemy, the dragon section at the Tournament of Kings Las Vegas is known to be the most fun. Rooting for dragons is way more fun than boring ol' humans any day, but even though the dragon section loses, every other team is envious of them at the end of the show because they had more fun cheering than everyone else.
We Recommend:
Rooting For Your Team: At the Tournament of Kings Las Vegas, you get to sit in the Dragon, Russia or the Austria section. Obviously some guys are the good guys and some guys are the bad guys, and while they are duking it out, the cheers from the crowd keep them fighting. Actually, the good guys win not matter what (yeah, bummer for all you in the dragon section) but it's fun to get excited and get involved.
Only Going Once: Nothing changes from night to night or year to year. If you go to the Tournament of Kings Las Vegas more than once, you'll get exactly the same experience every time. If you really enjoyed it and want the same thing time and time again, then this show will not disappoint you, but it's like seeing the same cheesy movie with the same meal twice.
Is it Worth It?
It's worth it for families or to see at least once. It's a little cheesy, but there are much worse places to spend your money.
Tournament of Kings Dinner Theater Las Vegas Restaurant Amenities
Full Bar
Open for Holiday Dining
Kid Friendly
Wheelchair Access
Live Entertainment
User Average Review
Overall:
Menu:
Ambience:
Location:
Service:
Based on review
Rating Distribution
100.0% recommended it
Tournament of Kings Dinner Theater Las Vegas Reviews
Restaurant Hotel
Other American Restaurants You May Like