BLT Burger Las Vegas
Well gee whillikers! Why get a hamburger when I can get a lamb-burger?
---
A Quick Look
Cuisine: American
Hours: Sun.-Thurs. 11am- 2am & Fri.-Sat. 11am- 4am
Price:
---
---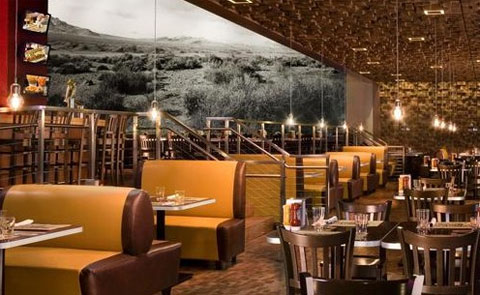 Like American Cuisine?
Check out more of our American restaurant faves!
The Skinny
A fancy chef is responsible for the burgers at BLT Burger Las Vegas. This joint is casual compared to fancy places, but fancy compared to other burger joints. The burgers at BLT Burger MGM Mirage are superswank with primo ingredients, including kobe beef or tandoori lamb (hmmm). You can watch them cook your burger here too, which you can also do at McDonald's, if you take a job there.
Reviews
There are currently no reviews!
Be the first to write a review!
Write a review
Our user reviews are from real registered users.
Quick Facts
Head chef Laurent Tourondel actually has 5 other restaurants with the title "BLT," most of which are in New York. BLT Burger is the only mark he's made on Vegas so far.
Although this place is known as the "rough and tumble" side of BLT, the prices still make us feel like we're splurging on fine dining.
Restaurant Website:
https://www.mirage.com/restaurants/blt-burger.aspx
Restaurant Menu:
https://www.mirage.com/files/BLT_menu.pdf
Info
Location:
The Mirage Vegas
3400 Las Vegas Blvd
Las Vegas, NV 89109
View Map
Phone:
702.792.7888
Hours of Operation:
Sun.-Thurs. 11am- 2am & Fri.-Sat. 11am- 4am
Additional Info:
Casual Dress
The Environment:
For a place that calls itself a bistro there sure are a lot of kids and drunk frat boys around, but the gourmet burgers and fries at BLT Burger Las Vegas are alright and the spiked milkshakes are enough to keep you calm.
Why We Dine:
Wouldn't you guess it Las Vegas has another celebrity chef putting his name on a restaurant and jacking up the prices. Luckily at BLT Burger Bistro Laurent Tourondel the hamburgers are actually right up our alley, and the name is just that extra kick that gets us in the door.
The Atmosphere: BLT Burger Mirage Las Vegas has all that celebrity chef gourmet goodness that you can't help but love when you go to Vegas but the atmosphere there isn't as snooty as the big restaurants. With 20 beers on tap, huge TVs with the game on and a constant rock 'n' roll soundtrack BLT Burger Las Vegas has good eats with a less pretentious vibe.
The Variety: BLT Burger Bistro Laurent Tourondel doesn't just have that good ol' beef for their burgers. They also have turkey burgers, lamb burgers, salmon burgers, all sorts of non-burger choices and four different kinds of french fries.
The Late Hours: The BLT Burger Las Vegas is in the Mirage Resort and Casino right on the Strip and you know what that means - drunchies (i.e. drunk munchies). BLT Burger MGM Mirage is perfect for those snack attacks that always manage to strike after a hot night out in Vegas.
Inside Knowledge:
The BLT in BLT Burger MGM Mirage might look like it stands for bacon, lettuce and tomato but while you can definitely get that on your burger it's actually the initials for "Bistro Laurent Tourondel," and we love any restaurant that can get away with subliminal egoism. Not to mention the fact that the burgers are pretty damn tasty, so we don't fault Mr. Tourondel all that much.
We Recommend:
The French Fries: Apparently being a famous chef means offering multiple choices of everything and we aren't complaining. Whether you try the skinny fries, the fat fries, the sweet potato fries or the waffle fries, BLT Burger Las Vegas makes 'em right.
The Night Rider: There is no way you can go to BLT Burger MGM Mirage and not try their spiked milkshakes and the Night Rider is just what the doctor ordered. The Kahlua, chocolate liqueur, Oreos and chocolate ice cream might even make you forget you're dropping $30 at a burger joint. (But your wallet will probably hold onto that memory for the rest of the trip).
Is it Worth It?
The burgers are good, the spiked milkshakes are great, but over $20 for a meal at a burger joint? You can probably find a better way to get rid of that cash. We won't say no to a shiny new present in the shape of some poker chips!
BLT Burger Las Vegas Restaurant Amenities
Famous Chef
Full Bar
Kid Friendly
Late Dining
Specialty Beers on Tap
Take-Out Available
User Average Review
Overall:
Menu:
Ambience:
Location:
Service:
Based on reviews
Rating Distribution
0.0% recommended it
BLT Burger Las Vegas Reviews
There are currently no reviews! Be the first to write a review!
Write a review
Restaurant Hotel
Other American Restaurants You May Like