Dick's Last Resort Vegas
Dick's doesn't sound all that appetizing to me. People don't really come here for the food though.
---
A Quick Look
Cuisine:

American

Hours: 11AM-Late
Price:
---
---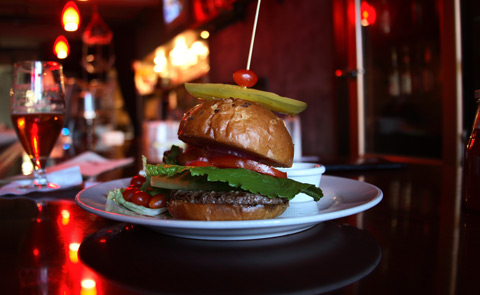 Like American Cuisine?
Check out more of our American restaurant faves!
The Skinny
Dick's Last Resort Restaurant Vegas is the only place where terrible and rude service is expected and appreciated. They say the service is like no other because they are rude, insulting and fall far short of anything resembling great customer service, but really. How many restaurants have we been to that this could describe? This is just the only one who does it on purpose and people still want to eat there.
Reviews
Most Recent Reviews
Write a review
Our user reviews are from real registered users.
Quick Facts
Dick's Last Resort Restaurant Vegas is a classic American joint with burgers, fries and ribs.
Dick's Last Resort Las Vegas is located in the Excalibur Hotel and Casino.
The staff at Dick's Last Resort Las Vegas will insult and offend you as much as possible. Make sure you wear your thick skin when you come.
Restaurant Website:
https://www.excalibur.com/restaurants/dicks_last_resort.aspx
Info
Location:
Excalibur Vegas
3850 Las Vegas Blvd S
Las Vegas, NV 89109
View Map
Phone:
702.597.7991
Hours of Operation:
11AM-Late
The Environment:
Insults, live bands, sports, hats with inappropriate things written on them, what more could you ask for in a restaurant environment? Well, probably lots. Everyone on staff here is highly trained at insulting people. You can't blame them though. With these bad attitudes, Dick's Last Resort Vegas must be the only place that would hire them. This is definitely not a place to bring the kids or your conservative Southern Baptist grandma. Things here get loud and harshly entertaining, but only when they can avoid being lame and just plain rude.
Why We Dine:
People really go to Dick's Last Resort Las Vegas for the environment than for the food. Because even though people complain when most people insult them, they think it's funny when waitresses who don't know them do.
To Be Insulted: This place is not for the light hearted. If you're easily offended, beware of Dick's Last Resort Vegas. You might think that it will be fun to have some friendly banter with your dinner. Yeah, some people make that fun. Not these people. These people are dicks. Seriously. So don't expect anything friendly. So unless you think it's funny to be called names, not really cared about, and still have to tip, Dick's Last Resort Las Vegas really should be your last resort.
Fun For Large Groups: The more the merrier! More people for the staff to insult, more people insulting them too. Bringing a big group to Dick's Last Resort Las Vegas helps take the heat off of the few
Free Hats: You get these darling little hats at Dick's Last Resort Vegas. Well, not exactly. They are tall, white chef's hats that usually say inappropriate and embarrassing things. They are great conversation starters, so maybe you should wear them on your next first date to break any awkward silences.
Inside Knowledge:
Dick's Last Resort Dining Las Vegas might dish it out, but they can take it too. Feel free to be just as rude to them as they are to you. Don't let your pimply little waiter insult you more than you insult him. Let's face it, there are probably more things wrong with his life than yours. Like, you're on vacation and he has to serve you food and drinks.
We Recommend:
Big A$$ Burger: Dick's Last Resort Las Vegas serves up pretty basic American grub, like burgers, fries they throw all over the table, and ribs. People really like this 1/2 pound though, and it comes with optional cheese and bacon in case you want to increase your likelihood of clogging your arteries. Then you'd really have something to insult them about.
Daily Events: Dick's Last Resort Vegas has lots of daily events and specials going on. Some days they give discounts to locals, some days they have beer pong going on, food challenges, and even live music on the weekends. Check their specials so you don' t have to listen to your waiter yap the whole time.
Is it Worth It?
It's fun to try once, for the experience. The food is nothing special, and the staff definitely doesn't make you feel special, but you'll have fun if you have thick skin.
Dick's Last Resort Vegas Restaurant Amenities
Full Bar
Live Entertainment
Late Dining
Gift Certificates
Private Parties
Wheelchair Access
User Average Review
Overall:
Menu:
Ambience:
Location:
Service:
Based on review
Rating Distribution
100.0% recommended it
Dick's Last Resort Vegas Reviews
Restaurant Hotel
Other American Restaurants You May Like