Sirio Ristorante Vegas
Whew mama! Sirio is sirio-usly expensive! But at least they have a happy hour!
---
A Quick Look
Cuisine:

Italian & Pizza

Hours: Mon.-Sun. 5pm- 10:30pm
Price:
---
---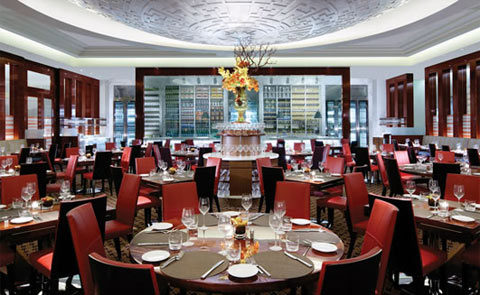 Like Italian & Pizza Cuisine?
Check out more of our Italian & Pizza restaurant faves!
The Skinny
You've probably heard the phrase "old time Italy with a New American twist" before, but usually it's talking about places like Dominos and the new restaurant that just opened that has pasta and pizza on the menu, as well as hamburgers and fries, so they think they fit in with the category too. Sirio Ristorante Italian food Las Vegas is not one of those places. They are more Italian than American, and they are more authentic than you'd expect for an average Vegas joint.
Reviews
There are currently no reviews!
Be the first to write a review!
Write a review
Quick Facts
Sirio Ristorante Las Vegas is an Italian-American restaurant on the promenade level at the Aria Hotel.
Sirio Ristorante Vegas offers menus starting with the caffe and happy hour appetizers and drinks, to early evening meals all the way through dinner and dessert.
Sirio Las Vegas fine dining doesn't have a dress code, but you're at the Aria, so make sure all your parts are covered and you don't look like you're at the pool.
Restaurant Website:
https://www.arialasvegas.com/dining/sirio-ristorante.aspx
Restaurant Menu:
https://www.arialasvegas.com/files/dining/Sirio_Dinner_Menu_February.pdf
Info
Location:
ARIA Las Vegas
3745 Las Vegas Blvd S
Las Vegas, NV 89109
View Map
Phone:
877.230.2742
Hours of Operation:
Mon.-Sun. 5pm- 10:30pm
Additional Info:
Reservations Strongly Recommended
The Environment:
Sirio Ristorante Las Vegas is classy but not over-the-top fancy. They're open every day as early as 5, so you don't have to come dressed in velvet and lace for your early evening meal, but don't show up after a long day of drinking heavily by the pool. The fancy red chair are comfy on our heinies, and the Sirio Ristorante Italian food Las Vegas food is like comfort food in our plump bellies.
Why We Dine:
We come to Sirio Ristorante Vegas for the food and the service, and the people watching. Mainly the people watching.
We're In Authentic Company: Many of the older Italians that come to Vegas dine at Sirio Ristorante. You'll probably have a group of louder old men feasting on pastas and meats, and plenty of wine, and talking (loudly) with their hands. See what they eat, and maybe you'll get a good idea of what to order yourself. Maybe in smaller portions than their meals though.
Italian Done Right: The hand-made spaghetti with 3-meat ragu, the lasagna bolognese, and everything else on the Sirio Ristorante Las Vegas menu is good enough to eat, three or four times over again, as long as you can afford eating that much.
Friendly Atmosphere: In addition to the authentic food and diners, the welcoming authentic service pairs nicely. The Sirio Ristorante Las Vegas staff is helpful with recommendations for our esteemed palates. We're used to eating hot dogs from carts, and they suggested things that even we liked. The room is cozy, like eating as one big Italian family. Not really the one you see every week on Jersey Shore though. We'll let you decide whether that's a good thing or not.
Inside Knowledge:
The Early Evening Caffe menu is $10 cheaper than the Sirio Ristorante Las Vegas Early Evening fixed course menu in the main dining room, and the wine pairing is cheaper too, but you're getting the exact same amount of food. The ambiance in the Sirio Caffe is just as nice, and you wouldn't be a high quality Cheapo if you didn't save those few extra dollars. Hey, that's a full drink at the club later!
We Recommend:
Early Evening Meals: Whether you choose the Sirio Ristorante Italian food Las Vegas Early Evening Sirio Caffe menu ($39 with an optional $19 wine pairing) or the main dining menu ($49 with a $24 wine pairing), you'll be pleased with these 3 course meals. You get just as much food as you would at dinner time, but from 5-7, your meal is cheaper. Kind of like an Italian happy hour! Paying less for fine dining makes us happy at least.
Staying, or Going, for Dessert: Many people enjoy the dessert at Sirio Ristorante Las Vegas more than any part of the meal. Dessert is a great way to end a meal at Sirio Ristorante Italian food Las Vegas, but it's also great to have instead of dinner, right?
Is it Worth It?
There are probably better and even cheaper places to eat in the Aria or in many other places on the Vegas Strip.
Sirio Ristorante Vegas Restaurant Amenities
Chef's Specials
Facilities for the Disabled
Easy Parking
Full Bar
Fresh Food
Healthy Options
Homemade Desserts
Pre-Theater
Premier Location
Romantic Dining
Valet Parking
Wheelchair Access
Wine Bar
Prix Fixe Menu
Happy Hour
User Average Review
Overall:
Menu:
Ambience:
Location:
Service:
Based on reviews
Rating Distribution
0.0% recommended it
Sirio Ristorante Vegas Reviews
There are currently no reviews! Be the first to write a review!
Write a review
Restaurant Hotel
Other Italian & Pizza Restaurants You May Like