Main Street Station Casino
Choo Choo! All aboard for a ride back to when diesel trains rolled by every hour! Oh, wait that still happens.
---
A Quick Look
Location: Downtown
Hotel Class:

Room Price:

Hotel Size:406 rooms
Casino Size:28,000 sq. ft.
Gaming:Yes
Nightlife: No
Pool:

Buffet:
---
Book now for great deals!!

Other Hotels like Main Street Station
Main Street Station Deal Finder
* Room Rates shown above reflect the average nightly rate for a 2 night stay with the calendar date as the check-in date, our visitors should verify actual rates, promotions and deals directly with the hotel as we make no guarantees regarding rates, but only provide them as a convenience.
Book Now
The Skinny
Filled with lots of dark woods, brass, antiques, beautiful stained glass and a great bar serving micro-brews, the Main Street Station Casino Hotel Las Vegas is one of the two prettiest casinos Downtown. It's a shame, though, that it's also sort of dull with no live entertainment, no pool and no nightclubs. It's solid, but limited.
Reviews
Most Recent Reviews
Our user reviews are from real registered users.
Quick Facts
Near Attractions
Check-in at 3pm
300+ Rooms
Check-out at 12pm
Check-In Age - 21+
On-Site Restaurant
Parking
High-Speed Internet
Info
Location:
200 N Main St
Las Vegas, Nevada 89101
View Map
Website:
https://www.mainstreetcasino.com/
Room Quality:
The Main Street Station Hotel, Casino and Brewery Las Vegas has clean rooms with modest furnishings including decent resting chairs. The casino theme of Victorian antiques is sort of ignored in the rooms, which are more modern. The beds are comfortable. The bathrooms are bland and have low shower heads, but are functional. Rooms on the top floors have mini-fridges. The Main Street Station Vegas Hotel abuts the freeway on one side and railroad tracks on another, so if you're a light sleeper be sure to ask for something high and away from these distractions. If you want a view of the Strip and the other downtown casinos, ask for an odd numbered room. Even numbers face North Las Vegas and the highway, which may bother light sleepers on low floors. The lower the room number on the floor at Main Street Station Las Vegas, the farther from the train tracks you'll be.
Service Quality:
Good, but Main Street Station Hotel, Casino and Brewery Las Vegas is a smaller hotel, so they don't have a lot of amenities. They will happily deliver an iron or extra towels, but there is no spa or masseuse you can call to your room. Check-in and check-out are quick thanks to the hotel's size. Staff is friendly.
What You Get Bottles of in the Bathroom:
Main Street Station Vegas Hotel is pretty stingy with bathroom supplies. Shampoo and lotion is about it.
Clientele:
A broad mix. Main Street Station Las Vegas has a loyal clientele so the people here are mostly repeat customers. They are middle class and spread across the entire age spectrum, with an emphasis on middle-age. There's no nightclub or other attraction geared toward the youth market. Casino Boy heads down to other Las Vegas hotels for bumpin' nightlife. If you want to stay somewhere with that nightlife scene, use our promo codes to save money on your stay!
How's the Pool?
Main Street Station Hotel, Casino and Brewery Las Vegas doesn't have a pool. Lame, but you are allowed to use the crappy little pool across the street at the California Hotel. Seriously, it's a crappy pool.
Resort Fee:
You won't find a resort fee at Main Street Station Hotel, Casino and Brewery Las Vegas! Thank God, I mean what would you be paying for anyway? Access to a different hotel's seedy pool?
Is it Worth It?
If you're like us and REALLY like beer, then yeah, Main Street Station Las Vegas is worth it. Beer-bong anyone?
Hotel Amenities
Air-conditioning
Bar/Lounge
Free Fast Internet
Parking Garage
Restaurants
Free Guest Parking
Table Games:
Main Street Station Las Vegas has blackjack, craps, poker, Let It Ride, Pai Gow, roulette. The blackjack games are often single and double deck, and craps offer 20x odds.
Bet Minimums:
Blackjack is as low as $3, but expect $5 minimum most of the time at a six-deck shoe, craps is $5. The minimums will quickly jump when the joint is jumpin'. The roulette wheel is also only a 50-chips with a two dollar min, while Let It Ride and Pai Gow start at a whopping $5.
Machines:
A decent selection with many video poker machines. Most of the video poker is not full-pay, however if you look hard you will find some. Plenty of those penny video reel slots.
Cocktails?
Main Street Station Hotel, Casino and Brewery Las Vegas has very good cocktail service with micro-brewed beers available, especially if you choose to play the video poker machines at the bar along the back of the casino.
Who Gets Comps?
There is not a lot of cash for slot club members, but you will get comps for the good buffet and, occasionally, the brewpub. Table players can easily get a buffet comp with some $15 action. The slot card is B-Connected and links all the Boyd properties, including the Fremont and Cal.
Main Street Station Hotel, Casino and Brewery Guest Rooms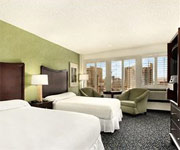 Standard Room
The Standard Room at Main Street Station Hotel, Casino and Brewery Las Vegas comes with one king or two double beds. Good thing this place is a brewery because other than that, it skimps big time on amenities. The rooms come with dial-up Internet with a fee (really?), TVs with cable, pay movies, and OnCommand Video. There is also an in-room safe but pretty sure if you're staying here, you won't have anything valuable enough to put in a safe, maybe that wicked gold-plated chain you like to rock on special occasions. I'm sure someone would want to steal that. The 354-square-foot rooms at Main Street Station Las Vegas also have irons, hair-dryers, and roll-away beds available.
User Average Review
Overall:
Service:
Cleanliness:
Location:
Room Quality:
Based on 4 reviews
Rating Distribution
100.0% recommended it
Main Street Station Hotel, Casino and Brewery Reviews