CheapoVegas.com Updated Guide to Las Vegas Hotel Resort Fees in 2013
Aug 09, 2013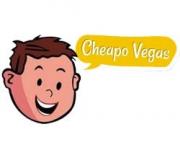 Las Vegas resort fees have continued to climb in 2013. Guests can almost always expect a semi-hidden resort fee at a Las Vegas hotel. These pesky charges can include amenities such as a daily newspaper, an airport shuttle, long distance calls or internet use (be sure to read the fine print before booking). These amenities aren't optional anymore, but a mandatory hotel charge. It's basically a way for hotels to make more money without having to raise their advertised price. Now, Casino Boy sort of understood when places such as The MGM Grand or ARIA Las Vegas enacted these so-called "resort" fees a few years ago (because, well, they're resorts). But now the term is so ambiguous that even non-resort hotels can get away with charging customers extra dough. Today, expect the average resort fee for a luxury hotel to hover between $25-$28 and the semi classy establishments somewhere from $18-$24. The best advice is to remain aware of resort fees and factor them into the budget. Save money elsewhere by using a Las Vegas promo code or carpooling to Sin City. Some Las Vegas hotels will waive resort fees for suite guests or loyalty card members. However, there are a few Las Vegas hotels who have managed to hold out a little longer and not charge any resort fees.
Las Vegas Hotels on the strip with no resort fees include:
Hilton Grand Vacations Suites on the Las Vegas Strip
Hilton Grand Vacations Suites at The Flamingo
Hilton Grand Vacations Las Vegas Convention Center
Elara Las Vegas
MGM Skylofts
Resort fees have fully infiltrated the Las Vegas Strip, but now they are coming for Downtown Las Vegas too. Resort fees changed the Las Vegas hotel business model for good, and it's likely that many more hotels will follow suit. Also, hotels such as The Golden Nugget Las Vegas are getting more creative and charging a "Downtown destination fee." Thankfully, there are still some cheapo spots in Downtown Las Vegas, but they are going fast.
Downtown Las Vegas Hotels with no resort fee:
The California
El Cortez
Four Queens
Fremont Hotel
Main Street Station
Ellis Island Super 8
What's a cheapo to do? Be sure to choose hotels based on the total price, including resort fees. Often, the hotels with a lower fee or no fee are at a disadvantage because their rate looks more expensive to the unsuspecting consumer. Remember, not all resort fees are created equal.
Take a look at the fine print and notice which resort fees cover the most useful amenities.
For a more comprehensive list of Las Vegas resort fees and what's included for both on and off Strip hotels, visit the CheapoVegas Las Vegas Resort fees page.
This article was written by Lauren Yap, Editor of CheapoVegas.com
About CheapoVegas.com:
CheapoVegas.com is the online authority for all things fun and exciting in Las Vegas... and cheap, too! Hotel promo codes, show packages and tour deals are just a few of the travel aides to be found on CheapoVegas.com.