CheapoVegas.com Reveals the Hottest Valentine's Day Deals of 2013 for Valentine's Day in Las Vegas on a Budget
Jan 30, 2013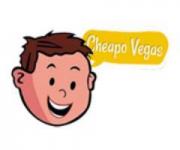 (PRWEB) January 30, 2013
Known for its casinos and party scene, many don't realize that Las Vegas for Valentine's Day can be one of the most romantic cities in the United States. Valentine's Day is almost here, and it's time to make those romantic Valentine's Day vacation plans. The best part about Valentine's Day in Las Vegas is that couples can enjoy many of the romantic attractions without breaking budget. Valentine's Day dinner and staying in a hotel can be expensive, but with these romantic date tips, enjoy a cheap Valentine's Day in Vegas while still impressing that special someone. CheapoVegas.com has the skinny on the top romantic Las Vegas deals for Valentine's Day on a budget.
1. Many hotels offer special Las Vegas promo codes and romance packages for Valentine's Day. These packages often times include romantic spa specials, show deals, and Las Vegas hotel discounts. Save on a romantic hotel booking and have more time and money to spend on Valentine's Day impressing the honey.
2. Choose a Valentine's Day Menu that's within budget. While many Las Vegas restaurants offer Valentine's Day specials that are over $100 dollars per person, CheapoVegas.com has the scoop on Valentine's Day menus that can help save money without disappointing the Valentine.
Tacos & Tequila: Situated within the Luxor Hotel & Casino, Tacos & Tequila offers a Valentine's Day dinner menu for $58 per person. The menu includes shrimp ceviche, a sampler plate of chicken quesadillas with beef flautas, a Mexican entrée and sampler desert. Hoping to get lucky with that Valentine later? Pay an additional $15 and get some Patrón tequila specials.
Tao: For $55 per person, Tao is offering a special Valentine's Day menu. This Valentine's Day special is great because it comes with several options for the appetizers and entrees so there's no getting stuck on a completely fixed menu. Turn up the romance without breaking bank at Tao for Valentine's Day 2013.
Hussong's: Located within Mandalay Bay, Hussong's is serving a special Las Vegas Valentine's Day dinner on February 14th, 2013 for $35 per person. This Valentine's Day menu includes veggie soup with turkey lettuce wraps, almond tequila sea bass with roasted red potatoes, and Swiss chard with bunuelos and cocados. Romance never tasted so good.
3. Enjoy these romantic but cheap things to do in Las Vegas on Valentine's Day 2013:
The Bellagio fountain show is a romantic Vegas attraction that won't cost a dime. There's no need for big spending to show that loved one how special they are on Valentine's Day.
Head to the Eiffel Tower at the Paris for a romantic view from fifty stories high. There's no cost for snuggling up and taking in this romantic view.
Enjoy the Aquarium and Siegfried & Roy's Secret Gardens & Dolphin Habitats at the Mirage. Make the whole stay, including the day, a romantic getaway. Head to the Mirage and enjoy the Aquarium for no cost! For another romantic attraction at the Mirage, head to Siegfried and Roy's Secret Gardens & Dolphin Habitats to enjoy the exotic lions, tigers, panthers and more. This romantic attraction costs $19.95 per adult, and is an experience that will bring any Valentines closer together.
About CheapoVegas.com:
CheapoVegas.com is the online authority for all things fun and exciting in Las Vegas... and cheap, too! Hotel promo codes, show packages, and tour deals are just a few of the travel aides to be found on CheapoVegas.com. This article was written by travel expert Ariel Abbott, editor of CheapoVegas.com.