CheapoVegas.com Guide to Las Vegas Resort Fees in 2013 for Vegas Strip Hotels
Mar 08, 2013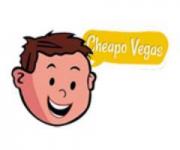 Updates on the detested Las Vegas resort fees of 2013. CheapoVegas.com lists the 2013 Las Vegas resort fees to factor in when making a Vegas hotel reservation this year.
(PRWEB) March 08, 2013
When it comes to reserving a room in Vegas, there's nothing Cheapos hate more than those dang resort fees that somehow sneak into a Las Vegas hotel reservation. Sometimes these Las Vegas resort fees are hidden in fine print that many travelers don't realize are there until they go to pay at check-out, and that's just a Vegas trip buzz kill. As for what comes with the "Resort Fee" per hotel, it tends to vary, but it usually isn't anything that isn't included in the normal rate for a motel like the Holiday Inn. So why do these big Vegas casino resorts charge a fee? Probably because they can, and they know people will still pay. The Vegas resorts usually say that it's to cover the costs for parking, energy, pool and towel services, lounge entertainment and more. Some reservation sites don't even include the resort fees in the reservation costs or explain what the fee covers. CheapoVegas.com is here to help travelers weed through those sneaky resort fees so that no Cheapo traveler is left surprised with extra fees upon checkout from a Las Vegas Strip hotel. Here's a list of Las Vegas resort fees of 2013 to factor in when making a reservation at a Las Vegas Strip hotel in 2013:
Las Vegas Strip Hotels with no resort fees in 2013:
Bill's - Closed for renovations as of February 4th, 2013 until early 2014. We'll see if they have resort fees under their new name when they open back up.
Golden Nugget
**As of March 1st, Caesars entertainment will now charge a resort fee for their hotels, which include: Planet Hollywood, Caesars Palace, Paris Las Vegas, Rio, Bally's, Harrah's, The Quad and Flamingo.
Las Vegas Hotels on the Strip with Resort Fees in 2013:
Wynn: Sorry Cheapos, as if they aren't charging enough for rooms already, the Wynn requires a $25 Las Vegas resort fee. This added fee covers internet access, entry to the fitness center, and local or toll-free phone calls. However, this doesn't apply to the Tower Suites.
Bellagio: Pay $25 for the resort fee at the Bellagio and get high speed and wireless internet, local calls, gym use, and airline boarding pass printing. But then again, most people staying at the Bellagio probably didn't even blink at that $25 resort fee, or at least pretended not to.Those who want to be seen as having money in a yuppy scene, then pay this resort fee and stay at the Bellagio, you'll fit in well. Want to throw some money around? This is the spot, plus the spacious rooms and classy service will make doing so that much easier.
Tropicana: With their recent major facelift, the New Tropicana Las Vegas isn't looking too shabby, and the increase in resort fees was probably bound to happen. Charging $19.99 for resort fees, the Tropicana includes Internet, access to the fitness center, 50% off drinks at Tropicana Bar from 4 to 6 pm, faxing, local and 800 number calling, and printing for boarding passes. After the $180 million dollars of renovation, it may be worth the resort fee to stay at Tropicana and pretend Vegas is a beach while chilling at the renovated pool and hotel.
VDARA: It's no surprise that this swanky Vegas hotel charges a $25 resort fee. Posh without a resort fee just doesn't seem to happen in Vegas anymore. The Vegas resort fee in 2013 at the Vdara includes phone calls, internet in the rooms, newspaper, bottled water in the room, turn-down service and use of the fitness center. The Vdara doesn't have a casino, so Cheapos who need that gambling time, is the resort fee worth it?
Treasure Island Las Vegas: Treasure Island charges a pretty steep resort fee of $25 per day. Dish out the dough for the Vegas resort fee at Treasure Island and get internet access in the room, local calling, some faxing, daily newspapers, use of the fitness center. Most importantly, the 2013 resort fee at Treasure Island includes two-for-one cocktails and two-for-one lunch or dinner buffet, plus $20 towards the next stay at Treasure Island...SCORE!
Las Vegas Venetian: The Venetian in Las Vegas charges a $20 Resort Fee. This charge includes entry to the Canyon Ranch fitness center, internet, local and toll-free calling, newspaper daily, and printing for boarding passes. Luckily, this also includes some grub and drinks. Those who stay with the Venetian also get one regular coffee at Cafe Presse plus two-for-one house wine, domestic beer, or well drink at Oculus, La Scena, Fusion, Salute, or Laguna.
Monte Carlo Las Vegas: This Strip hotel charges a $20 resort fee which includes internet access, use of the fitness center, printing for boarding passes, fax and copy services, in-room coffee, 2 bottles of water, and newspaper. The great location on the Strip and convenience and cleanliness will make it worth the costs to stay at this Vegas Strip hotel in 2013.
Mandalay Bay: The Mandalay Bay charges a $25 resort fee for internet use, fitness center use, local calls, and newspaper. The resort fee may seem high to all those Cheapos out there, but it may be worth it for the Mandalay Bay since it has one of the nicest pools in town with an actual wave pool, party vibe, and top notch service and room quality.
Luxor: The Luxor Las Vegas pyramid hotel charges a resort fee of $18/night, which covers high-speed internet, gym access, local and long distance calling, and newspaper daily. Located on the south end of the Vegas Strip, the Luxor resort fees are pricey, but the location and frequent vegas deals may make it worth it for a Vegas vacation.
Aria: The Aria Hotel CityCenter is known for Las Vegas luxury, so it shouldn't come as a surprise that they charge a $25 Vegas resort fee. The resort fee covers the fitness center and spa use, local and toll free calling, daily newspaper, and boarding pass printing. This hotel may be a splurge, but it could be worth it for the swanky atmosphere and Vegas luxury.
For a more comprehensive list of Las Vegas resort fees and what's included for both on and off Strip hotels, visit the CheapoVegas Las Vegas resort fees page.
This article was written by Ariel Abbott, Editor of CheapoVegas.com
About CheapoVegas.com:
CheapoVegas.com is the online authority for all things fun and exciting in Las Vegas... and cheap, too! Hotel promo codes, show packages and tour deals are just a few of the travel aides to be found on CheapoVegas.com.