CheapoVegas.com Announces the Top Las Vegas Hotel Events in April 2013
Mar 29, 2013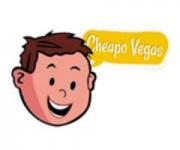 Las Vegas events in April 2013! CheapoVegas lists the top Las Vegas hotel events this April.
(PRWEB) March 29, 2013
Ready to rage at some Vegas events in the hottest Las Vegas hotels this April? Well, April is definitely the right moth for Vegas travel this spring for anyone looking to let loose in Sin City and experience some killer Vegas events. Going off with some of the most famous DJs and performers in the world, the events in April at the Las Vegas hotels on the Strip will make for some epic once in a lifetime experiences. For those who want to show off that swimsuit body at a raging Las Vegas hotel pool party or that LBD at a Las Vegas nightclub or concert (or, like Casino Boy, just want to look at those swimsuit bodies and little black dresses), the Las Vegas events of April have everyone covered for some debauchery this spring in Sin City. Here are the top Vegas hotel picks for Las Vegas events in April:
Top Vegas clubs, nightlife, and events at Las Vegas Hotels in April 2013:
1. Vegas Events at the Mirage Las Vegas hotel in April:
1 Oak for One Of A Kind Tuesdays on Tuesday April 2nd and April 16th.
Haute Thursdays at 1 OAK Las Vegas nightclub every Thursday night in April.
Swizz Beats at 1 OAK in the Mirage Vegas hotel on Friday, April 5th.
Major Lazer Strikes Back at 1 OAK on April 9th.
Grand Opening of Bare Pool Lounge with DJ Bamboozle on April 15th.
Mile High Takeover at the Mirage Vegas hotel Bare Pool Lounge on April 20th.
Boyz II Men in Las Vegas at the Mirage Terry Fator Theatre on Saturday, April 20th.
Daniel Tosh Aces of Comedy in Las Vegas on April 19th and April 20th.
Jay Leno in Las Vegas at the Aces of Comedy on April 12th and April 13th.
2. Top Vegas entertainment events in April at the Aria Las Vegas hotel:
Unconventional Tuesdays at the Aria's Deuce Lounge in Las Vegas.
Nelly at Aria hosts Industry Night at Haze nightclub in Vegas on Thursday, April 4th.
Guest DJ set by Mr. Mauricio at Haze on Friday, April 5th.
T-Pain's House of Pain at Haze in the Aria Las Vegas hotel on Saturday, April 6th.
Liquid Pool Lounge Spring Break Las Vegas at the Aria on Sunday, April 7th.
3. Top April events at Caesars Palace Vegas hotel:
Pure Nightclub Friendship Soccer Tournament 2013 Official After Party on April 7th.
Eric D-Lux at Pure Nightclub in Caesars Palace Las Vegas hotel on Fridays.
Shania Twain in Vegas at Caesars Palace on Tuesday, April 2nd.
Jerry Seinfeld Las Vegas comedy show at Caesars Palace on April 12th and 13th.
4. Top Events at the Hard Rock Hotel & Casino for April in Las Vegas:
Def Leppard at The Joint in the Hard Rock Hotel & Casino on Wednesday, April 3rd.
The Xx at Las Vegas Hard Rock Hotel & Casino in The Joint on Tuesday, April 16th.
Prince at The Joint at the Hard Rock Hotel on Friday, April 26th.
Kenny Chesney in Las Vegas at The Joint on April 19th and 20th.
Andrew Dice Clay in Las Vegas at t Vinyl from April 11th - 21st.
5. Top Vegas Events at Mandalay Bay Las Vegas hotel in April:
The Dan Band at the House of Blues in the Mandalay Bay Vegas hotel.
Rihanna in Las Vegas for her Diamonds World Tour on April 12th, 2013.
The Ultimate Fighter Finale of Team Jones vs. Team Sonnen on April 13th.
Dropkick Murphys at the House of Blues in the Las Vegas hotel Mandalay Bay.
EPL Soccer Live at Ri Ra with Heineken Drafts for $4 on EPL game days in April.
Nicky Romero at LIGHT NIGHTCLUB with Clockwork and Andy Caldwell for the Grand Opening of the new nightclub by Cirque Du Soleil at the Mandalay Bay on April 26th.
Axwell with Hook N Sling at Mandalay Bay LIGHT NIGHTCLUB on Saturday, April 27th.
Visit the CheapoVegas Las Vegas hotels page for more information on these and other Vegas events and hotels.
About CheapoVegas.com:
CheapoVegas.com is the online authority for all things fun and exciting in Las Vegas... and cheap, too! Hotel promo codes, show packages and tour deals are just a few of the travel aides to be found on CheapoVegas.com.