5 Places to Party in Las Vegas this Weekend: the CheapoVegas.com Guide to Las Vegas Nightlife
Feb 08, 2013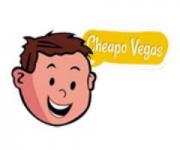 Don't miss out on the Las Vegas nightlife this weekend. CheapoVegas.com announces the best places to party in Las Vegas February 8th-10th 2013
(PRWEB) February 08, 2013
While it's always a good time to party in Las Vegas, this coming weekend is one of the best weekends this winter for planning a Las Vegas trip. Since February is a busy month with the Super Bowl, Valentine's Day and President's Day weekend, the weekend of February 8th - 10th is the best time in February to visit Las Vegas. Avoiding Vegas crowds can be difficult, but by heading to Las Vegas this weekend, party without the annoying holiday crowds and get the best Las Vegas deals. CheapoVegas.com has the scoop on best Las Vegas nightlife and Vegas parties this weekend:
Pure Nightclub at Caesars Palace: While Fridays are always fun at PURE Nightclub in Caesars Palace Las Vegas, Saturday may be a better choice this weekend. Far East Movement will be performing live at PURE on February 9th, 2013. Doors will be opening at 10:00pm, and for all those Cheapo ladies out there, get to the venue before midnight and there's free entry! Women who show up after 12pm will need to pay a $20 entry fee, and the cost for men is $30 all night...but with free entry for women until midnight, the odds are bound to be good fellas!
XS at Encore: This weekend is a grand slam for hit DJs at XS. The French DJ David Guetta begins his residency for 2013 at the Encore this Friday, February 8th. Sultan & Ned Shepard will also be playing, and nobody would want to miss their sets either. On Saturday February 9th, dance the night away to swedish DJ Avicci, the 2013 Grammy nominee for Best Dance Recording with 'Levels.' Not only will world class DJs be performing, but with its gold-plated decor, dance floor of almost 1,100 square feet, and VIP booths with bottle service for those ballers who are willing to dish out some extra dough, there's no better place to party in Las Vegas than XS.
Vegas StrEATS Festival at Jackie Gaughan Plaza in Downtown Las Vegas: Don't miss the February Vegas StrEATS Festival on Friday, February 9th in Downtown Las Vegas. This festival features food trucks with gourmet eats, MCs and DJs with all types of music, local bands, and vendors with from graffiti artists and streetwear brands. This is one of the favorite Las Vegas events among locals, and it is located outside the El Cortez Hotel & Casino. For those staying in Downtown, hit the nearby bars before and after heading to the festival to cure those drunchies with some delicious food truck snacks!
1 Oak at the Mirage: Party at 1 Oak in the Mirage on Friday February 8th with resident DJ Karma and perhaps catch an A-list celebrity at this 16,000 square foot Las Vegas nightclub! On Saturday, February 9th, join the international rugby community in Vegas for 1 Oak's USA Sevens International Rugby Tournament Weekend after party . Show a tournament pass or the stub of the ticket for free entry for ladies before midnight and reduced price for men. Experience some of the best of Las Vegas nightlife with 1 Oak and the USA Sevens International Tournament. With free entry for ladies before midnight, men our bound to have good odds...and for all those ladies out there, don't miss out on the hunky rugby men!
SHARE Nightclub Las Vegas: For those who are looking for Las Vegas gay nightlife this weekend, SHARE is throwing a Glitter Masquerade Ball on Saturday February 9th to kick off the Las Vegas Mardi Gras celebrations. DJ J. Diesel and MIkey Swift will be spinning in this New Orleans' Bourbon Street themed gay Las Vegas Night Club just off the Strip.
About CheapoVegas.com:
CheapoVegas.com is the online authority for all things fun and exciting in Las Vegas... and cheap, too! Hotel promo codes, show packages and tour deals are just a few of the travel aides to be found on CheapoVegas.com. This article was written by travel expert Ariel Abbott, Editor of CheapoVegas.com