Adventuredome at Circus Circus
County fair rides in a giant circus tent at Adventuredome Vegas. Waahoo!
---
A Quick Look
Type: Roller Coaster
Hours: Sun. 10am-9pm, Mon.-Thurs. 11am-6pm, Fri. & Sat. 10am-12am
Price:
---
---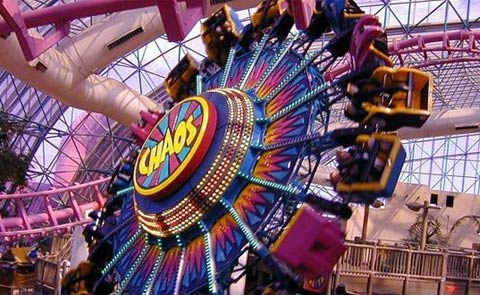 Looking for more things to do?
Check out more of our Roller Coaster faves!
The Skinny
Adventuredome at Circus Circus Las Vegas is a good way to get rid of the kids for a few hours while us adults hit the slots. It's pretty silly to be honest, but at least Adventuredome Vegas is conveniently located on The Strip. The rides are geared toward kids and it feels more like a dirty fair than an amusement park. Beware of the creepy clown shows at Adventuredome Las Vegas theme park. They freak Casino Boy out.
Reviews
There are currently no reviews!
Be the first to write a review!
Write a review
Quick Facts
Adventuredome theme park at Circus Circus Las Vegas won the Safety Awareness Award in 2009. Maybe that's why the rides are so boring. Safety is overrated, we want to see our lives flash before our eyes on shoddy roller-coasters. Weee!
Adventuredome Las Vegas theme park used to be known as Grand Slam Canyon.
Every October Adventuredome Vegas transforms into super scary Halloween themed Frightdome.
Website:
https://www.adventuredome.com/
Info
Location:
2880 Las Vegas Blvd S
Las Vegas, NV 89109
View Map
Phone:
702.794.3939
Features:
Adventuredome at Circus Circus Las Vegas is a loaded amusement park in a small area. Adventuredome Vegas has an 18-hole miniature golf course, arcade, Xtreme Zone with rock-climbing and indoor bungee-jumping (that sounds smart), and a two-loop roller-coaster. We think the Adventuredome at Circus Circus Las Vegas is much more exciting after a few stiff drinks and a beer bong. Let's see who can last the longest on the Disk'O without puking!
Why We Go:
We don't go, but our friends with kids go to drop them off and head to the casino. Adventuredome at Circus Circus Las Vegas is lame, the only upside is it entertains the kids. Practice your rock, paper, scissors skills so you don't end up the poor louse stuck with the kids all day while your friends go party it up.
Alcohol: If it weren't for the fact that they serve alcohol, you'd find a line to jump off the top of the Ferris Wheel.
Code Adam Partnership: Adventuredome at Circus Circus goes above and beyond to ensure the little kiddos are safe. They are even community partners with child safety alert program, Code Adam. That's pretty cool.
Military Discounts: We support our troops so it's a huge plus that Adventuredome Las Vegas does as well. If you're not in the military, you can still save at Circus Circus with our Las Vegas hotel deals. Deals for everyone!
Inside Knowledge:
Don't put your hands on the rails at Adventuredome at Circus Circus Las Vegas unless you want a sticky surprise. Nasty little kids and their gum. Use a trashcan!
We Recommend:
Do Pack Wisely: Bring lots of water and food to Adventuredome at Circus Circus Las Vegas. They have food there but it'll be more expensive than your entry ticket. You can either deny your kids food or make sure you have some extra dough in your pockets by using our Vegas promo codes on your hotel room.
Do Enjoy the Novelty: Even if amusement parks aren't your cup of tea, where else will you find a bunch of rides in a 5 acre pink dome?
Don't Go Without Kiddies: This is not the type of amusement park you enjoy with your buddies. It's geared toward kids and kids are the only ones who will enjoy it. It's great for families, but unless you have one of them it's not really worth it.
Don't Miss out on Frightdome: Halloween is one of the most redeeming times of the year at Adventuredome Las Vegas. The whole place puts on spooky decorations and a fun scary twist to things. This still isn't adult terror, but it's kinda cool in a campy way.
Is it Worth It?
It's worth it if you are ten years old and your parents are fronting the dough.
User Average Review
Overall:
Location:
Fun Factor:
Service:
Value for Cost:
Based on reviews
Rating Distribution
0.0% recommended it
Adventuredome at Circus Circus Reviews
There are currently no reviews! Be the first to write a review!
Write a review
More Things to Do That May Appeal To You
| | Thing to Do Info |
| --- | --- |
| | |
| | |
| | |
| | Type: Adventure Address: 6845 Speedway Blvd Las Vegas, NV 89115 |
| | Type: Adventure Address: 2657 Windmill Pkwy # 357 Henderson, NV 89074 |