Casino Royale
Golly, Casino Royale seems to be telling everyone to F.O.A.D.- Freak Out and Disco!
---
A Quick Look
Location: The Strip
Hotel Class:

Room Price:

Hotel Size:152 rooms
Casino Size:30,000 sq. ft.
Gaming:Yes
Nightlife: No
Pool:

Buffet:
---
Book now for great deals!!

Other Hotels like Casino Royale
Casino Royale Deal Finder
* Room Rates shown above reflect the average nightly rate for a 2 night stay with the calendar date as the check-in date, our visitors should verify actual rates, promotions and deals directly with the hotel as we make no guarantees regarding rates, but only provide them as a convenience.
Book Now
The Skinny
Casino Royale Las Vegas is a slice of downtown in the middle of the Strip. Rooms are cheap, gambling is cheap, the place is rundown and has been since it opened. We still prefer gambling downtown, but for you low-rolling Strip-lovers out there, Casino Royale Vegas is a good spot to duck into when you can no longer bear the minimums at the big joints.
Reviews
Most Recent Reviews
Our user reviews are from real registered users.
Quick Facts
Near Attractions
Check-in at 3pm
100+ Rooms
High-Speed Internet
Near Restaurants
Parking
Info
Location:
3411 Las Vegas Boulevard South
Las Vegas, Nevada 89109
View Map
Website:
https://casinoroyalehotel.com/
Room Quality:
The rooms at Casino Royale Hotel Vegas are average-sized. They have fridges, coffee-makers and safes. The bathrooms have tub/shower combos and a single sink. As far as quality, the rooms are like a motel. Avoid rooms on the first floor as the windows open to the world and there is a good chance your view will be of the driveway. The exhaust smells might even convince you to keep the window closed as much as possible. On the plus side, the location is hard to beat. It's walking distance to the center Strip and so many casinos you'll faint with excitement.
Service Quality:
What service? There's no room service or fancy bed turn-down happening at Casino Royale Vegas. The help at the front desk can be surly. Overall, this is the kind of place where you're expected to take care of yourself.
What You Get Bottles of in the Bathroom:
There's the dreaded shampoo/conditioner combo (it just doesn't give us the extra body we need) and lotion. Maybe even a shower cap in the suites. If you know what to do with a shower cap, you can have a pretty wild night. We don't though, so don't ask.
Clientele:
The poor crowd. Casino Royale Las Vegas is mildly popular with young people, and very popular with grinders who don't have the clothes to hang out at the new ritzy places. Occasionally, pretty people do find their way in. Heck, we've stared at many pretty people, too shy to approach them.
How's the Pool?
Super small. The pool at Casino Royale Hotel Vegas doesn't give you anything to see or do but swim in small circles. Oh, and breathe exhaust fumes.
Is it Worth It?
If you're into cheap gaming and a prime Strip location, sure. If you're into leisure and luxury, Casino Royale Hotel Vegas really ain't your best bet.
Hotel Amenities
Free Fast Internet
Free Guest Parking
Table Games:
Blackjack, craps, roulette. It's the basics with a few gimmicky twists, like Spanish 21, and blackjack Switch! Dealers are friendly but prone to hustling for tips, and the action is lively and loud. If we are any indication, Casino Royale Las Vegas is definitely a place where younger folks can let loose and make asses of themselves.
Bet Minimums:
Slots from a penny on up to a buck. The penny slots are coin-free, they take paper bills and print out receipts for your winnings. Their slot selection is fair but limited to a few hundred machines. The video poker is poor.
Machines:
$3 craps tables (with 100x odds for $5 bettors, 20x below that). Roulette can be as high as $1 chips with $4 minimum, and there is usually (but not always) a few $5 blackjack tables. Skip the crappy 6:5 blackjack games.
Cocktails?
Great cocktail service, plus a low-price bar right next to all the action. The free-flowing booze at Casino Royale Las Vegas is why the young folks are so happy. It's also why they're throwing up in the planters out front.
Who Gets Comps?
The slot club pays decent to slot players, and half as much to VP players. Play a full day here at quarters and you'll be comped to a couple of free nights. At the tables, play twenty bucks a hand for a few hours and you can probably talk them into a free dinner at Denny's.
Casino Royale Guest Rooms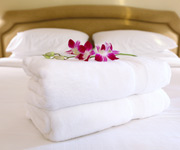 Casino Royale Standard Room
Rooms at Casino Royale Las Vegas are small, simple and non-smoking. What do you get? Free parking and cable, a comp'd in-room safe and refrigerator, and your choice of a king-sized bed or 2 double beds. No pets - sorry, pup! And yes, the Casino Royale Hotel Vegas does have a pool that you'll be granted access to as a guest, though we can't vouch for it as we've never been.
User Average Review
Overall:
Service:
Cleanliness:
Location:
Room Quality:
Based on 2 reviews
Rating Distribution
100.0% recommended it
Casino Royale Reviews