David CopperField at MGM Grand
Golly Gee these illusions leave me scratchin' my head!
---
A Quick Look
Show Type: Magic
Rated:

G

Dates: Ongoing
Price:
---
Book Now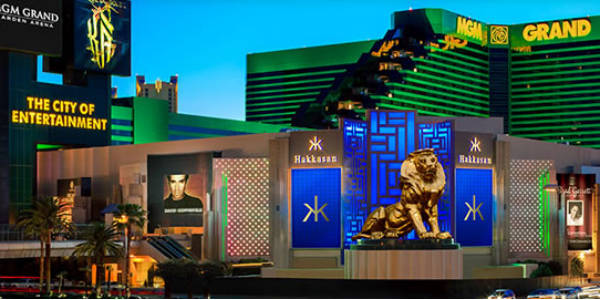 Not what you're looking for? Check out more Magic shows!
The Skinny
David Copperfield performs two shows live each evening at the MGM Grand in Las Vegas. The show times are 7:00pm and 9:30pm. There is also a matinee show each Saturday at 4:00pm. Each show has a running time of 90 minutes
Reviews
There are currently no reviews!
Be the first to write a review!
Write a review
Our user reviews are from real registered users.
Quick Facts
Who: David Copperfield
Where: The Hollywood Theatre at MGM Grand Las Vegas
Address: 3799 S Las Vegas Blvd. Price: $69.99 and up
Dates: November 1-13 and 21-30, December 1-3 and 15-31
Times: 7:00pm and 9:30pm Sunday-Saturday, 4:00pm Saturday
Info
Show Dates:
Ongoing
Performance Times:
7pm and 9:30pm Sunday-Saturday, 4pm Saturday
Running Time:
90 minutes
Location:
Hollywood Theatre at MGM Grand
3799 South Las Vegas Blvd
Las Vegas, Nevada 89109
View Map
Age Restriction:
Ages 5+
Features:
Old and new fans will appreciate that he blends some of his classic illusions with new and original work. The Hollywood Theatre at MGM Grand is an intimate, 740 seat theater. Due to the smaller size of the room, most online reviewers of his show have described their view of the show favorably. The show might not be ideal for families with young children, and there is an age restriction of 5 years or older to attend. The show makes a perfect date night or group activity and is affordably priced.
What To Know:
David is a master magician with decades of both live and televised experience under his belt. While most visitors have seen him perform on television, it is more exciting to experience his illusions in a live venue. Part of the fun for the audience is the fact that he interacts with them throughout his performance and regularly includes them in his act. By coming out into the audience to show his skills up close, David demonstrates his masterful technique and professionalism. What separates this show from others is the fact that he relies on his skills as a showman and illusionist rather than presenting something overproduced or distracting. If you grew up watching David on one of his many television specials, then seeing him in person is an entertaining and nostalgic experience.
Inside Knowledge:
David has been a magician since he was a 12 year old child. At that age he performed professionally and was also the youngest person ever to be admitted to the Society of American Musicians. At the age of 16, David taught a course in magic at the New York University. David has had an iconic career including television specials, performed in a Broadway show, won Emmys and received a star on the Hollywood Walk of Fame. David received the Living Legend award from the United States Library of Congress. In 1991 David founded the International Museum and Library of the Conjuring Arts. The Museum is home to over 150,000 props, posters, books and other items related to conjuring. Housed in a building in Nevada, this collection holds the Guiness Book of World Record for being the largest private collection of magic artifacts.
Do's and Don'ts:
Do attend the matinee or book in advance to save on the cost of the ticket. Do book early in order to get the show time and seating you prefer. Do expect to see some classic tricks blended with newer additions to his act. Do remember that children under 5 years old may not enter the show. Don't expect to see dancing assistants or over the top stage productions. Don't expect entirely new material for the whole 90 minutes.
Is it Worth It?
Most would agree that spending under $100 in Las Vegas for 90 minutes of entertainment is a deal
User Average Review
Overall:
Acting:
Ambience:
Production:
Story:
Based on reviews
Rating Distribution
0.0% recommended it
David CopperField at MGM Grand Reviews
There are currently no reviews! Be the first to write a review!
Write a review
-->
More Magic Shows You May Like