Exotic Driving Experience
Well by-golly! I always did wonder how it felt to be a NASCAR driver, but now I get an even fancier car!
---
A Quick Look
Type: Adventure
Hours: 8:30am- 6pm
Price:
---
Book Now
---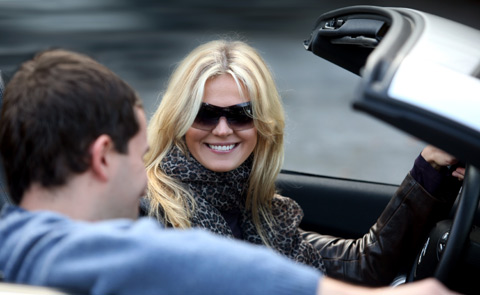 Looking for more things to do?
Check out more of our Adventure faves!
The Skinny
The Exotic Driving Experience Las Vegas isn't just a cheap thrill for a day when you have nothing better to do. If you've always dreamed of driving an exotic car at lightening speed, this is the place for you. All you have to do is listen to the professional driver that's guiding you along and remember to keep turning left.
Reviews
There are currently no reviews!
Be the first to write a review!
Write a review
Our user reviews are from real registered users.
Quick Facts
Exotic Driving Experience in Las Vegas lets you pick a fancy car and drive it around the track 5-20 times.
Don't worry if you're not a professional driver, Exotic Driving Experience Las Vegas gives you one of those!
Lots of people book Exotic Driving Experience Vegas thrills every day, so you have to book your car and your time in advance!
Website:
https://www.exoticsracing.com/
Info
Location:
6925 Speedway Blvd
Las Vegas, NV 89115
View Map
Phone:
702.405.7223
Features:
For the small fee of anywhere between $300 and $1500, you get to race your dream car around the Las Vegas Speedway at the Exotic Driving Experience Las Vegas. Don't worry if you're a terrible driver, because there is a professional in the passenger seat to guide you along and get you across the finish line safely. They make sure of that because these cars are super expensive. Oh yeah, your safety is pretty crucial too.
Why We Go:
Even though the Exotic Driving Experience Las Vegas Motor Speedway is a bit pricey, it can be totally worth it for a special occasion... or if you've saved money already using our Las Vegas hotel deals and promo codes and can now afford it. Casino Boy to the rescue!
It's A Nice Car We Can Never Afford: Let's face it, unless you win big this weekend, you probably won't be buying a Porsche or Corvette any time soon. But the next guy you see driving around a Ferrari, you can say to him "Yeah, I drove one once, but I decided to hold on to my mom's old Honda Civic for drivin' around." Nobody will tell him it was at Exotic Driving Experience Las Vegas and not brand new off the lot at the dealership.
Because We Like Going Fast: We love watching the boys race around the best NASCAR tracks, but we rarely get to experience it ourselves. Well, not this time. With the Exotic Driving Experience in Las Vegas, we get to play Dale Jr. and then brag about being in a fancier car than he usually is.
Great For Gifts: Get yourself a wife of the year award by getting your husband a few laps around the track in his favorite exotic car. They offer gift certificates that you can buy online or book over the phone. They also host events for large parties. It can be a real crowd pleaser.
Inside Knowledge:
Exotic Driving Experience Vegas thrills also offers a limo to pick you and your group up from your hotel. This is usually a nice touch when you're giving this as a gift, or when you're trying to go all out with the fancy gestures. Driving over in a limo to drive Ferraris and Lamborghinis. That's impressive.
We Recommend:
Do Pick You Favorite Car: You get to choose any car you'd like at Exotic Driving Experience Las Vegas, assuming it's available. If you book early enough, your dream car should be available and you won't have to settle for anything less. Also, some of the cars have height and weight limits, so make sure you're gonna be able to fit in the one you want.
Do Go For Up To 20 Laps: If you can afford it, 20 laps is the most you get to go. You'll get more time to do more things and it's 15 more laps than 5. Why not go big and spend all of your money, right?
Don't Bring The Family: Only one person gets actually experience Exotic Driving Experience Vegas thrills at a time, and that's you. Your professional driver sits in the passenger seat and nobody else is allowed to get in, so they just stand there and watch from afar. Don't drag everyone down there to make them stand around when you're the only one having fun.
Don't Wreck the Cars: Seriously, it's one of those if you break it you buy it deals. (Not really) But if you break it, they do get pretty upset. Listen to your professional driver and everything will be a-okay! Exotic Driving Experience Vegas thrills are only fun when no one gets hurt.
Is it Worth It?
You won't be disappointed with this if you're into fast cars, but it's definitely something to save up for unless your a high roller and a few hundred is just pocket change.
User Average Review
Overall:
Location:
Fun Factor:
Service:
Value for Cost:
Based on reviews
Rating Distribution
0.0% recommended it
Exotic Driving Experience Reviews
There are currently no reviews! Be the first to write a review!
Write a review
Other Adventure Things to Do That May Appeal To You

| | Thing to Do Info |
| --- | --- |
| | |
| | |
| | Type: Adventure Address: 6845 Speedway Blvd Las Vegas, NV 89115 |
| | Type: Adventure Address: 2657 Windmill Pkwy # 357 Henderson, NV 89074 |
| | Type: Adventure Address: Las Vegas Boulevard Las Vegas, NV 89109 |