Elara Las Vegas
Feels nice to come down from the suites into a lobby that doesn't smell like a casino!
---
A Quick Look
Location: Off-Strip
Hotel Class:

Room Price:

Hotel Size:0 rooms
Casino Size:0 sq. ft.
Gaming:Yes
Nightlife: No
Pool:

Buffet:
---
Book now for great deals!!

Elara Deal Finder
* Room Rates shown above reflect the average nightly rate for a 2 night stay with the calendar date as the check-in date, our visitors should verify actual rates, promotions and deals directly with the hotel as we make no guarantees regarding rates, but only provide them as a convenience.
Book Now
The Skinny
Staying Off-Strip in Las Vegas can mean less headache during busy weekends and the Elara Hilton Hotel in Vegas is a sweet choice for a sweet Off-Strip stay! How does direct access to the 170+ shops and restaurants of the Miracle Mile sound? If that's not enough for you, then the new City Center is right across the street!
Reviews
There are currently no reviews!
Be the first to write a review!
Write a review
Our user reviews are from real registered users.
Quick Facts
Check-in at 4pm
Check-out at 10am
High-Speed Internet
Near Restaurants
Parking
Check-In Age - 18+
Info
Location:
80 E Harmon Avenue
Las Vegas, Nevada 89109
View Map
Room Quality:
The rooms are clean and come equipped with top of the line suite features, like a jacuzzi and an 8-foot projector screen! Along with projector screens, the rooms also come with 42-inch high definition flat screen televisions with premium cable... not that you're going to be spending much time in your room, but you never know! The view from the Elara Las Vegas rooms is one of Casino Boy's favorite parts of the hotel. Ceiling-to-floor windows provide views that include the Las Vegas Strip, the desert and/or the mountains! Relax as you look out over the city and get ready for the night. Smaller suites come with kitchenettes but you can upgrade to a larger suite with a full kitchen if you like. Unfortunately, high-speed internet access is not included in the room rate... so if you want to get online to search Cheapo Vegas you'll have to fork over $10 for 24 hours of access. Use your time wisely.
Service Quality:
Staff is friendly and helpful. No problems here! If you need anything in your rooms, towels, pillows, cheeseburgers, a hug, you name it, just call the front desk and ask. You'll be surprised at how timely and courteous the staff are at Elara Hotel in Vegas. Talk to the concierge if you want to get on the guest list for the best clubs in town!
What You Get Bottles of in the Bathroom:
You'll find your standard hair care and body lotion bottles in the rooms at the Elara Hilton Hotel Las Vegas. If you want a bottle of something else, say, a little more alcoholic, you'll need to talk to the kind people at the front desk!
Clientele:
The party type don't frequent the Elara Hotel in Vegas. The lack of a casino, nightlife hub and strict pool rules make the Elara Las Vegas a bust for partiers. If you're just looking for a chill spot to stay Off-Strip Las Vegas with your family or a loved one, the Elara is a solid choice!
How's the Pool?
There are a lot of rules at the Elara Hilton Hotel in Vegas pool... and expensive snacks. If you're trying to do day drinking the pool is not the place to do it. Get to the pool early for the best sun or you'll find an abundance of shade from the surrounding buildings.
Resort Fee:
No resort fees at Elara Hotel in Vegas! However, that does equate to a surcharge for high speed internet access. At least there won't be a surprise charge when you're ready to book.
Is it Worth It?
If you're looking for a non-casino, classy suite for a Vegas weekend, the Elara is a premier Off-Strip choice!
Hotel Amenities
Air-conditioning
ATM/Banking
Bar/Lounge
Fitness Center
Free Guest Parking
Guest Rooms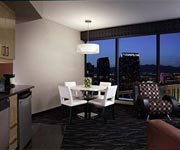 Junior Suite
Junior Suites at the Elara Las Vegas come equipped with a king bed and a red-leather sofa bed in the living area. The Junior Suites also come with two 42-inch high definition televisions and remote-controlled curtains!
The in-room kitchenette includes a refrigerator, dishware and utensils. Like all the Elara Las Vegas rooms, the high-speed internet isn't free and the room is non-smoking.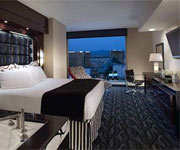 One Bedroom Suite
One Bedroom Suites come with a king bed and a red-leather sofa bed that can be slept on in the living area. The biggest difference between these suites and the Juniors is the kitchen, which has more features in the One Bedroom Suites.
The bathroom has a jetted tub, hair dryer and toiletries, like all other Elara Las Vegas rooms. Also like all other rooms, the One Bedroom Suites have 42-inch high definition TVs, no free internet and are non-smoking!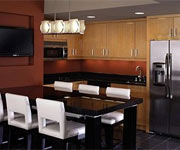 Two Bedroom Suite
Two Bedroom Suites come with, surprise, two king beds! They also have a red-leather sofa bed in the living area and all other standard room features that the Elara Las Vegas provides like in-room kitchen and beautiful, panoramic views of the Strip, mountains and/or desert. The Two Bedroom Suites do come with high definition TVs in the bathroom and dining areas.
Upgrade to a Two Bedroom Premier Suite for extra amenities!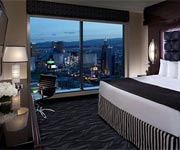 Studio
Studios at Elara Hilton Hotel in Vegas are for the traveler who needs little. These rooms come with one king bed, sofa bed, kitchenette and bathroom. There is no living area in the Studio rooms.
Similar to all the other rooms at the Elara Hilton Hotel in Vegas, the Studio rooms don't have free high-speed internet or options for smoking rooms!
User Average Review
Overall:
Service:
Cleanliness:
Location:
Room Quality:
Based on 0 reviews
Rating Distribution
0.0% recommended it
Reviews
There are currently no reviews! Be the first to write a review!
Write a review