Downtown Vegas Hotels
Golden Nugget Vegas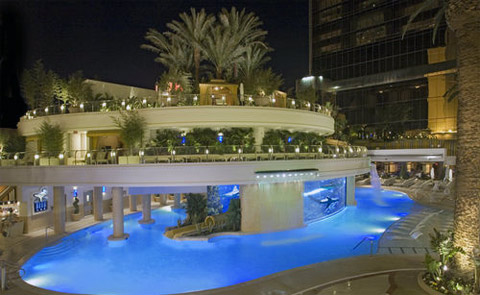 The Biggest and Best Downtown Vegas Hotels
Just because you're staying in an older part of town doesn't mean you have to sacrifice elements of luxury that make Las Vegas, well, Las Vegas. In addition, nearly all of these hotels in Downtown Vegas are within walking distance from the Fremont Street Experience, which provides hours of entertainment and awe-struck gazing when you have no money left to spend. Here are a couple of our favorite posh hotels near the brilliant lights of Fremont Street.
Golden Nugget Vegas: Featuring the sweetest slide and pool setup among all of the Las Vegas Downtown hotels, this swanky joint offers the luxury amenities of classy Strip hotels at a much lower cost.
Fitzgerald's Las Vegas: Who wouldn't want to gamble at a joint with a huge four leaf clover on the sign? Well it didn't really bring us any extra luck, but Fitzgerald's is still one of the most towering fixtures in Downtown Las Vegas.
Gold Spike Hotel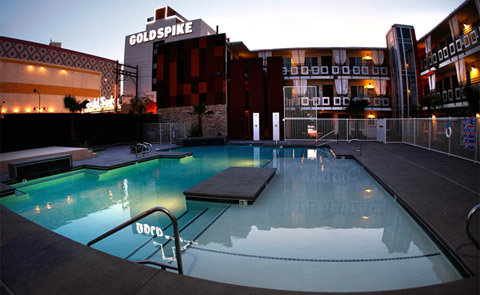 Cheap Downtown Vegas Hotels
The first thing that people commonly associate with Downtown Vegas is its cheap hotels and casinos. The good thing is that the value of staying here is still very good, it's not like you receive Motel 6 in exchange for your $40 at hotels in Downtown Vegas.
Four Queens Vegas: Located right on top of the fire that is Fremont Street, this cozy resort is larger than first meets the eye. Although there's no pool or anything too luxurious, rooms are clean and the staff is friendly.
Gold Spike Hotel and Casino: We weren't kidding when we said that the Hotels Downtown Las Vegas had to offer like to use gold imagery, at least in their names. For rates as low as under $20 a night, you won't find much actual gold here, but there's enough to get by.
El Cortez Hotel and Casino: Located two blocks away from Fremont Street, this truly original Las Vegas icon is still a fine choice for those looking to save a buck or two.
Home of the true Las Vegas gamblers and hardcore locals, Downtown Vegas hotels create a snapshot of what early Las Vegas looked like in the old days. Cheap rates, made cheaper with all the Las Vegas coupons floating around, and reasonable table minimums beckon to those who don't care about the pomp and flair of the Vegas Strip and its more expensive prices.
Downtown Las Vegas, the original hot spot of Sin City, offers a special ambiance and charm apart from the newer developments on the Vegas Strip. At the same time, staying at hotels in Downtown Vegas do not preclude you from visiting the Strip; who doesn't love cheaper hotel rates with the same daytime fun?
Many of the hotels Downtown Las Vegas has to offer provide a historical slant and a flair for the Wild West, in case you're looking for that sort of atmosphere. Gold and golden things are the common motif, and there's a better chance to strike it rich here with all the cheaper gambling minimums.
The best part about staying at Downtown Vegas hotels is most definitely the ridiculously cheap rates you can find, especially on the weekdays and off-peak seasons. Make sure to check out our Las Vegas deals for the best offers!
Contrary to certain trends and the opinion of your Uncle Billy Bob, there is no one ideal way to spend a weekend in Las Vegas. Something different works for everyone, and for many that means finding hotels in Downtown Vegas.